Model's height in the photo: 164 cm
Model's size in the photo: S
Baby's age in the photo: 24 months
Baby's clothes size in the photo: 98
Size of the carrier in the photo: preschool
---
Does your wrap come from a true weaving studio, or from a manufacturer that just sources random fabric ? LennyLamb is a true weaving studio.
---
LennyHybrid Preschool - half buckle baby carrier

For toddlers and preschoolers
Age: 1-5 years
Clothing size: 86-122
A carrier for "special missions" dedicated for bigger/older children
Babywearing positions
Back, front "tummy to tummy", hip
Grows with your child
Adjustable panel for a perfect fit and ergonomic positioning at all stages of your child's development so this carrier will be useful for a very long time
The hybrid of what's best
It's like a pre-tied wrap. The comfort of a carrier + versatility of a wrap
Reinforced construction
The golden mean between secure and solid construction and the softness to keep the comfort while babywearing
Comfort for the parent
Removable shoulder padding for comfortably carrying heavy children. Adjustable waist belt and long shoulder straps ensure a perfect fit for parents of various sizes
Hood
Comes with a coordinating, removable hood that is easy to attach for head support while sleeping, and for wind and sun protection
Pocket
Placed on the waist belt. Practical and handy; with a super easy magnet fastener. Will easily contain a phone, keys and other necessary accessories
Safety
The certificate of compliance with safety norms PD CEN/TR 16512:2015 and ASTM F2236 - 16a
ATTENTION: Actual colors and pattern placement may vary from pictures. The color of the buttons can vary from the one presented in the pictures.
Waist belt adjustment range: 64 - 142 cm
Shoulder straps' length:
longer rail: 230 cm

shorter rail: 207 cm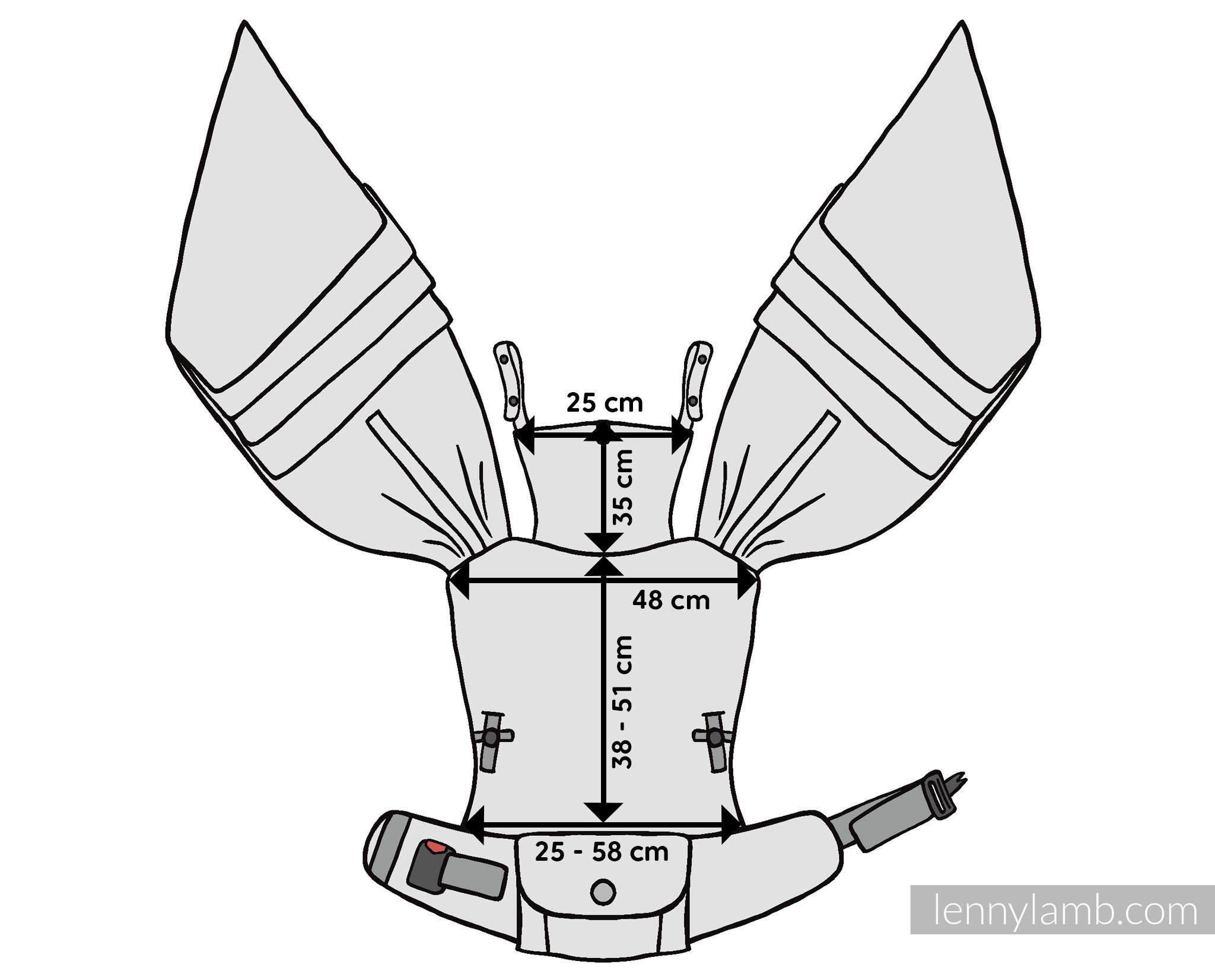 Permissible measurement error +-3cm

---