When an awaited baby comes into this world, you experience a miracle. Each moment seems to be magical. A few days later you know being a parent may turn out to be not so simple.
The LennyLamb project is a project weaved with love for children and the willingness to help adults. The project, which teaches how to survive the hardship of parenthood in a natural closeness and without being exhausted.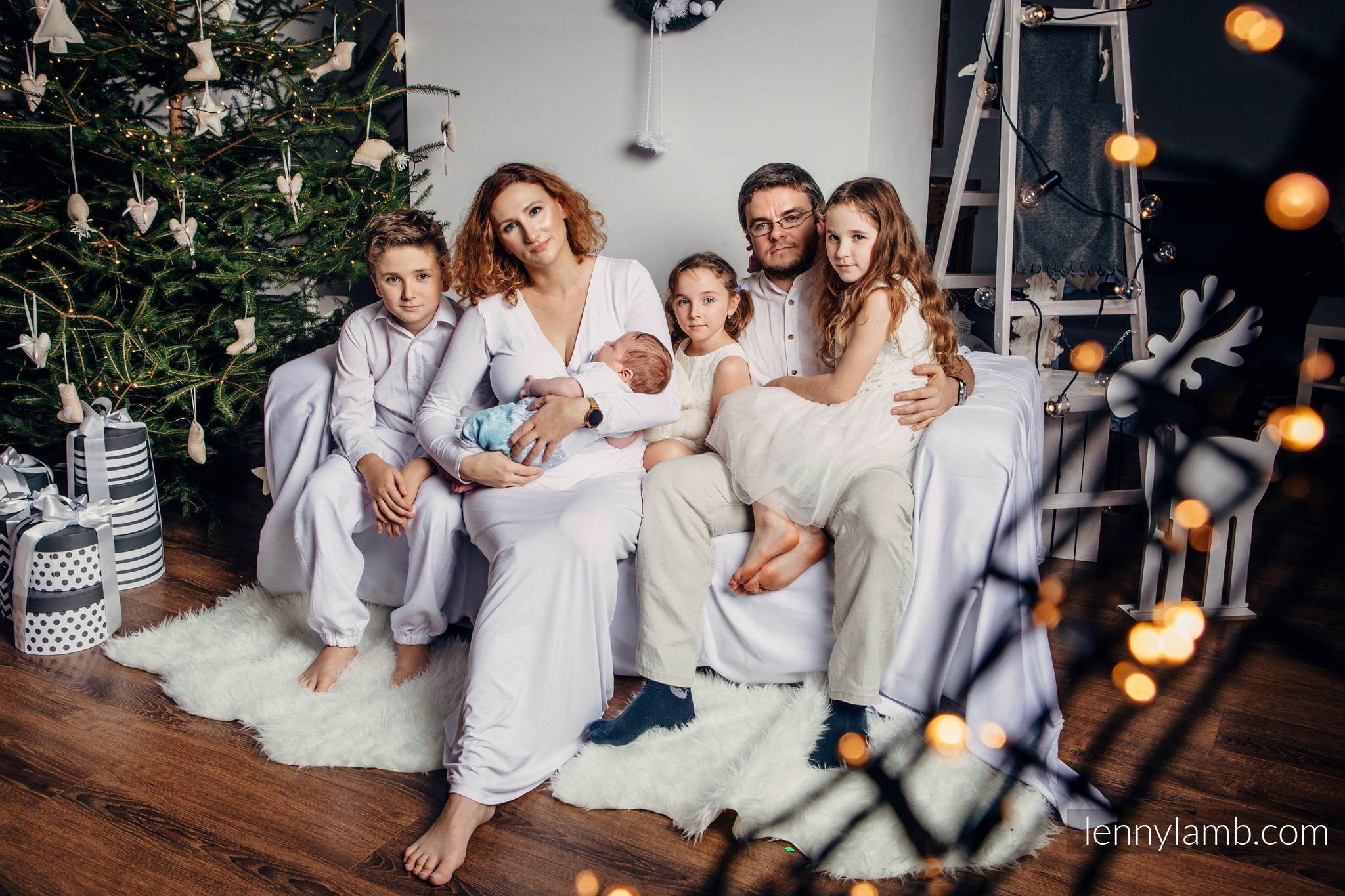 The story began on one hot May night in 2007. In the Bemowo district of Warsaw, in a family of IT specialist and pharmacists the first child came into this world. The world of young parents turned upside down. Their hearts were filled with love. A little human wasso sweet. Until the first walk. After three steps, the wonderful baby started to scream at the top of his lungs that everyone could hear his scream in the three adjoining settlements.Taking him in the arms was good only for a moment. Each attempt of putting him back into the stroller ended with the scream. The walks are off. And the look in people's eyes. As if I was hurting him. I gave up. With the baby in her arms, pushing the stroller she came back home. Maybe, tomorrow will be better.
Tomorrow came, but it was not better. Franciszek was screaming again. They didn't even have a chance to pass their block when the mummy had to take him into her arms. No chance to go further. The nightmare of walks began. The situation was even worse when the young mum passed the fourth block. The return was even harder. That was the moment when a young mother realized that the real motherhood was not a piece of cake as is shown in the TV commercials. In the daytime, Franciszek was a calm baby, but each walk looked exactly the same. Mummy Asia was exhausted and depressed. The husband was working hard, ten hours a day. They couldn't count on grandparents. Some grandparents lived 400 kilometers away, and some lived 150 km from Warsaw. There was no support on a daily basis to take the baby and walk with him. To give a moment to rest.
The young mum was looking for a solution obsessively. What should I do? I can't spend the whole life with a newborn in the four walls. At that moment, a friend told her that there were such wraps that can help the baby. You just have to wrap your little one and carry him with you. A little bit like African women do. She found her first wrap in her mother's close. She cut it from the material, according to the size, and tried to tie it in order to check whether the baby felt comfortable.
The family looked at her as if she was crazy. But she knew. The first feeling told her everything. It wasn't even about the closeness but it was more about the possibility of having a walk. She didn't have to hold him to have a walk. He was close, and she was certain that he is safe.That was such an amazing feeling. Something extremely natural. As if the baby was finally in the right place. Small and cuddled. She feltit with the whole body. It was such a WOW. The moment of closeness and freedom.
Now, having a walk looked differently. Franciszek was nestling - mum could walk freely and, again, she was a free woman. That experience realized her that she loved wraps. She believed that the wrap is not just a thing, she thought that the wrap gives freedom. Unlocks emotions. When you feel that you are helpless, that you can't calm down your baby, that you're an awful mother. The wrap made the mother stronger, more confident and calm. She was able to make her life right and walks became a pleasure and an amazing adventure.
So she decided to buy a real wrap. So she went to the most expensivestore in Warsaw, and it turned out that there weren't any wraps. How was it possible? Everybody on the internet said that wraps are so marvelous and wonderful? She thought that this is something you can buy out of hand in the shop. Soon, she discovered that she was wrong. She bought two on the internet but they were a mistake.The fabric was stiff and inappropriate. We found some information on the forum where to buy a proper and long wrap. But the original one from Germany was pretty expensive and cost 250 zł. That was a lot of money for a young married couple. When she looked further she came across a polish company, which was producing wraps. But then the store was closed, and stocktaking was taking place. So she found a girl who was importing wraps from Germany. But the girl was on holiday at that time and didn't sell wraps. A black hole.You finally found a solution, but you can't use it. But the young mum didn't give up. She found a person who imported the Girasol wraps, which were weaved by Indians in far Guatemala. She was waiting for it for three weeks. That was her first ORIGINAL and beloved wrap. She found "A Piece of Cloth" forum. She started to participate in the meetings, which were organized by the wrap community. She could finally get away from home, met women, who had the same problems. She felt needed and understood.
Then she dreamt about the second wrap. It should be brown with little and thin stripes. And she couldn't buy it not for the world. The person who imported wraps didn't answer the emails. So she thought that she wants to be a distributor. She wrote to the renowned manufacturer. But the email wasn't replied to.
In the meantime, she decided to buy a carrier. Another failure. She had to wait for it for another three months.
That was a complete disaster.
Then the idea came. Since there is such a problem with buying a wrap,we're gonna produce them. When she told her husband - he had the whole plan in his head. Let's set up a manufactory. And name it LennyLamb. Because they liked Lenny Valentino music and a lamb inentrancing. And lambs are known for their warm and softness. They needed allies and found people who were also similar enthusiasts.They asked her sister Kasia and her husband Piotr to help them work on the products.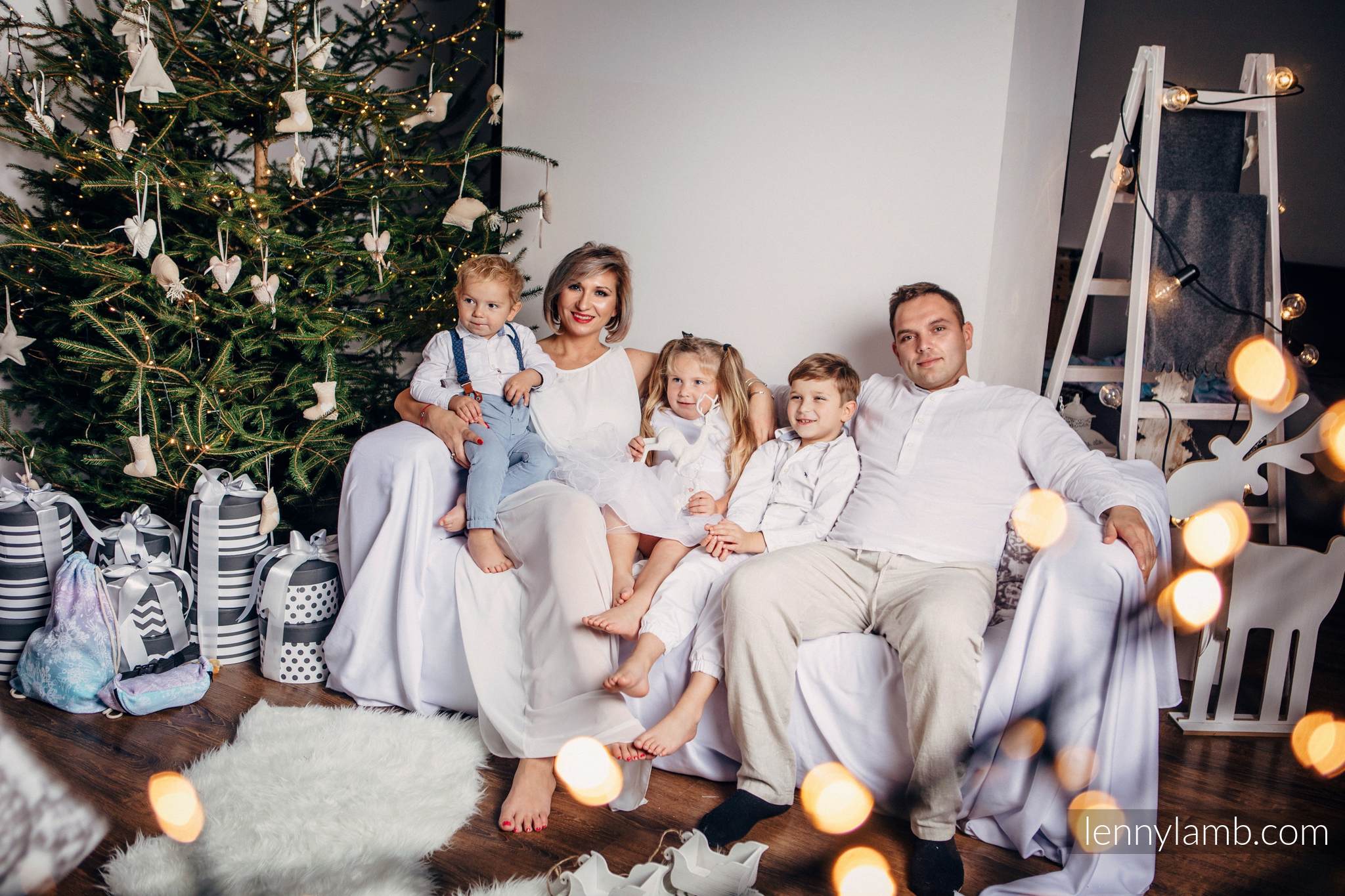 And then the story began.
They couldn't buy in any wholesaler the fabric they wanted. The only way was ordering it straight from a weaving mill. The first talks to the manager were a failure. Nobody did that. Nobody weaved colorful yarn. It didn't make any sense.
The quantity they needed was also ludicrous. When the weaving mill produced, for instance, polyester for the army, in kilometers, and manufactory needed one thousand meters of one color. And it was still a lot. Any weaving mill didn't meet their expectations. Although they found such trading partners who agreed to produce such quantity, subcontracting the production on two looms was time-consuming and problematic. A frequent answer to the questions was - NO BECAUSE NO and they didn't actually know why was that so.
That was the time when partners -Kasia and Piotrek were driving around Łódź,visiting weaving mills and sewing rooms to find someone who would agree to sew the wraps. Their green Mazda was driving from house to house and from manufacture to manufacture. The beams were in the carwith them all the time and a faith that they will make it. Kasia and Piotrek dragged them from doors to doors. They felt that they had something that people needed. Finally, they understood that if they want to have an influence on something they do, they should make another step. The company needed a plant. They found a perfect venue. Young mum Asia applied for grants. The general overhaul started and when a red ribbon was waiting for cutting it turned out that… the owner of the venue changed his mind. He terminated a tenancy agreement. The LennyLamb project became homeless overnight. Not only their dreams fell apart. They were responsible for the new employees and clients, who were waiting for the realization of the orders. What to do? We invested so much. How to pick ourselves up? Should we resign?
Then the idea came to our minds. We decided to relocate our company to alittle, family, and scenic localization near Piotrków Trybunalski. To Kłudzice. That was a life-saver. The production, idea, hearts, and dreamslanded among fields and forests. And there, among relatives, they started from scratch.
The company was developing dynamically. They had their own weaving milland sewing room, which worked according to a system designed to meet their expectation. The system enabled them to react immediately to individual orders.
When they thought that everything was under control - the internal control spotted a serious mistake. The seamstresses made the stitchings that were not correct. We couldn't sell the carriers. The lack of theso-called safety seams disqualified the lot.
The company was affected - two thousand carriers - almost 1 mln zlotych. Also potential image losses. The lot wasn't sold. New technical and control procedures were implemented. A special system of marking was created in order to enable them immediate picking up incorrect seams.
Today, the whole production process is under control. When the idea appears, the graphic designers can devise the pattern within a few hours. We know what is possible and what is not possible immediately. The SAFETY is confirmed by appropriate tests.
And that makes their products so special. They hire 120 employees from the neighborhood. Also, friends from the childhood. Their brand is recognizable all around the world. It has grown from love, determination, courage, and persistence. Franciszek has a sibling. In wraps, Ewa, Hania, and Szymon were also brought up. Kasia and Piotr also cared about the future generations. Marysia, Jaś, and Ignaś are also a part of the wraps history.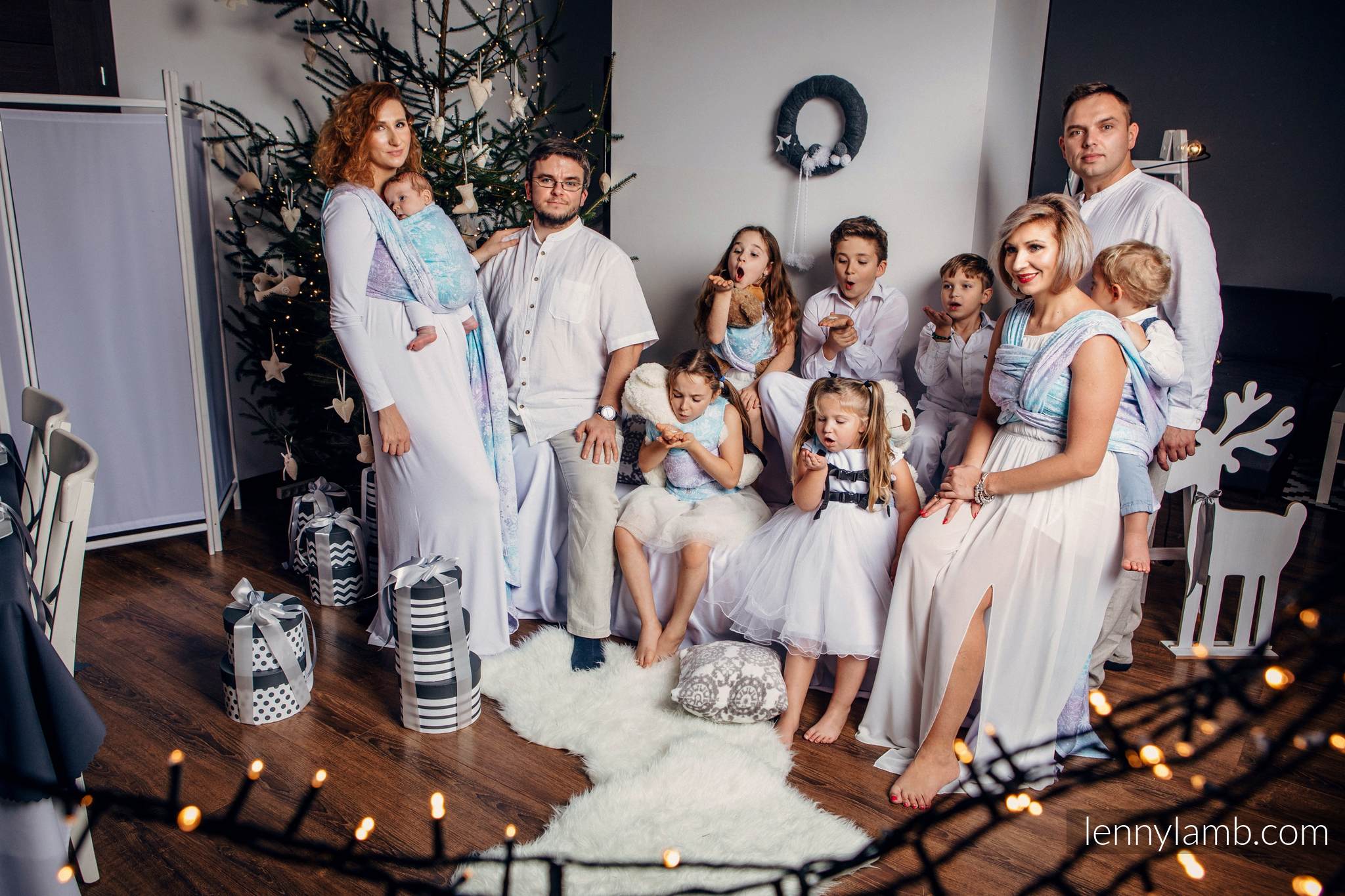 Apiece of these experiences is described in a book " Why Babywearing Matters?" which was published under the LennyLamb patronage. Because from the start, it was all about sharing the knowledge of how a piece of cloth can change parenthood.