Model with an older child:

Model's height in the photo: 160 cm
Model's size in the photo: XS
Baby's age in the photo: 16 months
Baby's clothes size in the photo: 74
Size of the carrier in the photo: standard
Model with a small infant:

Model's height in the photo: 170 cm
Model's size in the photo: S
Baby's age in the photo: 2 months
Baby's clothes size in the photo: 62
Size of the carrier in the photo: standard
---
LennyLight - compact adjustable baby carrier
For newborn through toddler
Age: 0 -30/36 mos.
Clothing size: 62-98/104
Designed for safe babywearing of little babies (min. 3,5 kg)
It grows with your baby
Simple & intuitive adjustment options for a perfect fit and healthy ergonomic positioning at all stages of your baby's development
Babywearing positions
Front, back (4. mos.+)
Less is more
Very light & compact baby carrier. Minimum amount of straps, buckles & adjustment options for maximum comfort & safe babywearing
Magnetic chest belt
With the baby carrier, you will receive a chest belt with a magnetic buckle absolutely free! You can freely slide the belt along the entire length of the shoulder straps or completely remove it. Just bring the buckles closer to each other and they will snap into place by themselves!
Always at hand
This carrier comes with a light mesh sack that is attached to the carrier
Circoola - a new technology in baby carriers
LennyLight is not only a high-quality carrier but also a breakthrough in technology. Each product has a unique N-tag. Place your phone with an NFC reader near it, and you will discover a wealth of information about your product. Tutorials, color, size, model, blend and weight of the fabric, production date, and a unique serial number - all of this is available at your fingertips
Easy fit
Soft shoulder straps and hip belt for your comfort, with simple adjustment so they are quick and easy for you to adjust.
Pocket
Placed on the waist belt. Practical and handy; with a super easy magnet fastener. Will easily contain a phone, keys and other necessary accessories
Safety
The certificate of compliance with safety norms PD CEN/TR 16512:2015 and ASTM F2236 - 16a
ATTENTION: Actual colors and pattern placement may vary from pictures.

Straps adjustment range: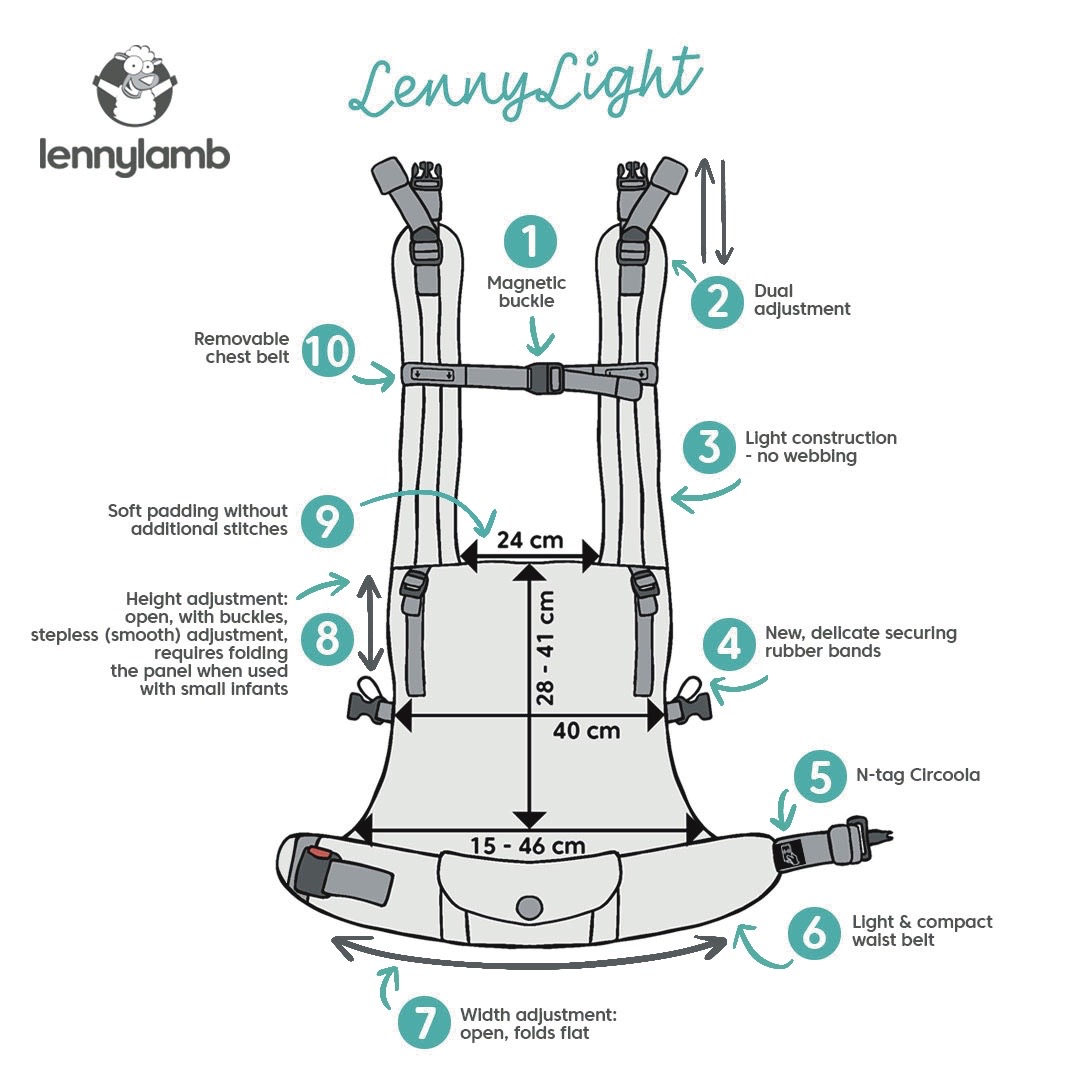 Permissible measurement error +-3cm

---
Shipping today!
Don't want to wait? Order an item from the SHIPPING TODAYcategory and pay for it by 11 AM (Poland time) and we will ship it today*!
*Refers to business days and only the items from the category SHIPPING TODAY. If there is any other item in your order we will not be able to ship it on the same day.
---
Does your wrap come from a true weaving studio, or from a manufacturer that just sources random fabric ? LennyLamb is a true weaving studio.
---