There is a rainbow after the storm...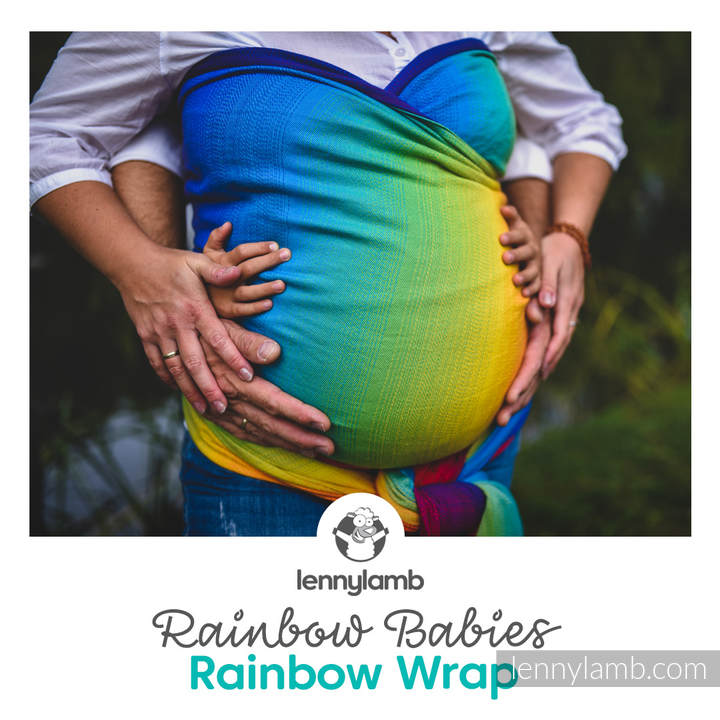 Fairy tales end with the words "and they lived happily ever after". Some people get to the "happily ever after" so effortlessly that it is hard to understand for others, and the others…. Other people have to defeat 10 dragons, a 100 headed beast, climb rocky mountains, go through impenetrable forests and give away all they have to get there. We want to dedicate the RAINBOW BABY wrap to them - the warrior parents, their children for whom they have been waiting for the longest time in the world and the children who they lost along the way.
With this RAINBOW BABY project we want to show that we remember about those of you who have struggled to get to this happy ending whilst still believing that these happy endings do happen. October 15th, the Pregnancy and Infant Loss Remembrance Day is a good time to look around and check what role you play in this fairy tale. Perhaps you've got more strength than others and you can help to defeat the dragon? Perhaps you've got the time and the courage to hear somebody out? If you want to have the Rainbow Baby wrap for yourself or want to gift it to somebody else, you will find it here
With this RAINBOW we are sharing ten stories of how the storm turned into rainbow <3 The stories with pictures full of love which the parents took for us. We are extremely grateful to these beautiful ladies who decided to let us in and share their difficult stories. They are healing for those who read them and since talk is therapy - hopefully, they are also healing for you mamas <3
We are sharing these real pictures of Rainbow Moms (and a Dad) with their Rainbow Babies. After the storm, the rainbow came….
You can find this beautiful RAINBOW BABY wrap here: https://bit.ly/3lSadwX
Aleksandra Czajka-Sołek
It was autumn, a beautiful Polish autumn. She was over 2 years old at that moment and we could start thinking of another baby. She was a miracle, because we were not meant to have children. Now we planned it and we succeeded ... there are two lines - I did not reveal it to anyone, I wanted to be sure and have the result confirmed by the doctor. The visit - it is too early, although there is a confirmation from the blood test, I have to come in 2 weeks. I have to do some fieldwork until the end of November, because how can I say that I can't go... Unfortunately, the weather has broken down. A cold, fever, weakness - only 3 more days of fieldwork. From Thursday, spotting, on Friday straight from work to a doctor's appointment... It was the worst visit in the world. I didn't say anything to anyone, the visit wasn't entered in the calendar. Then 2 weeks with flu at home. It was gone. 13 months later my second daughter was born. We succeeded, with a rupture, problems and disability - but she's here! She is wonderful... and only then, after a year I told my husband, nobody else...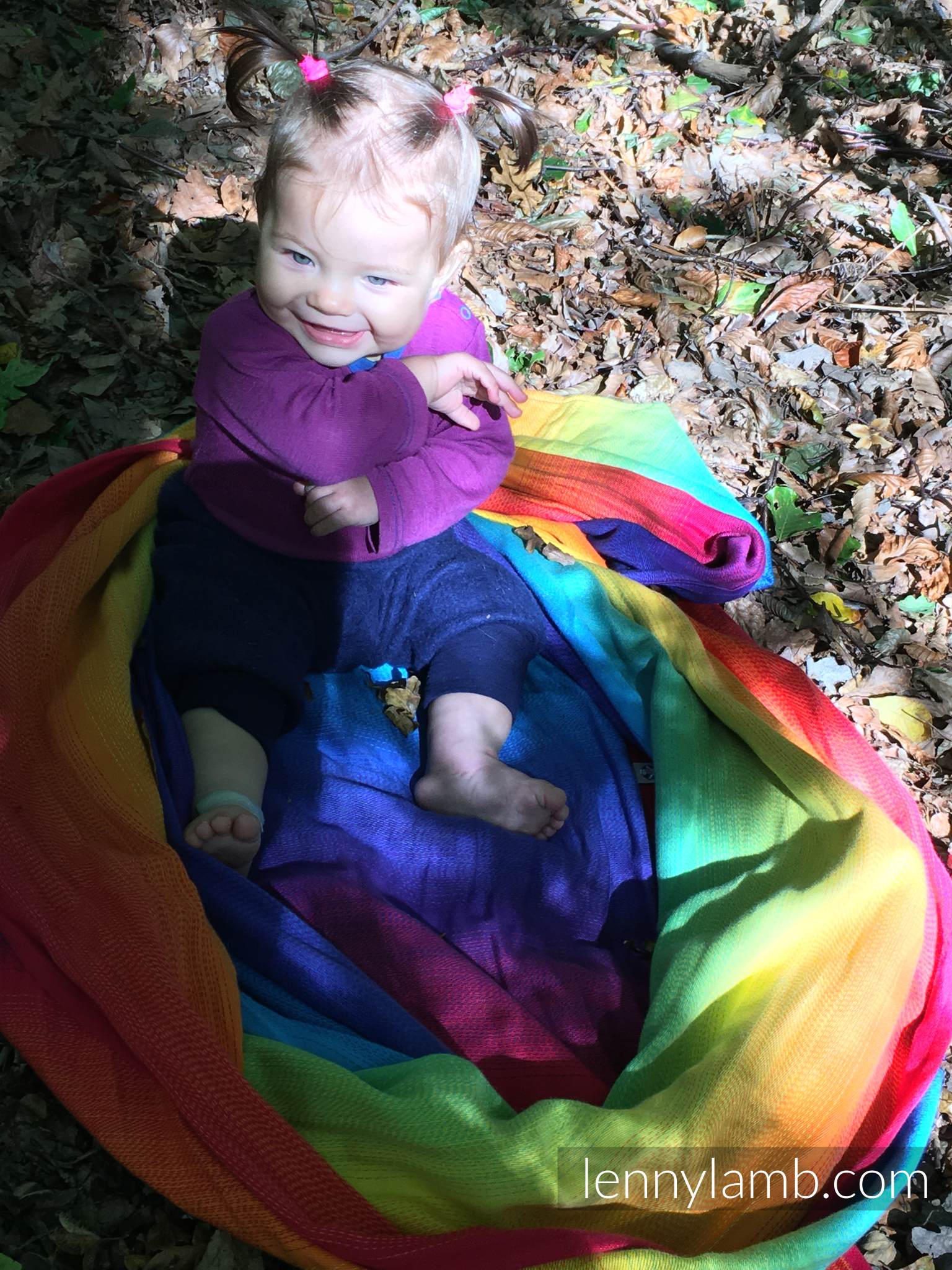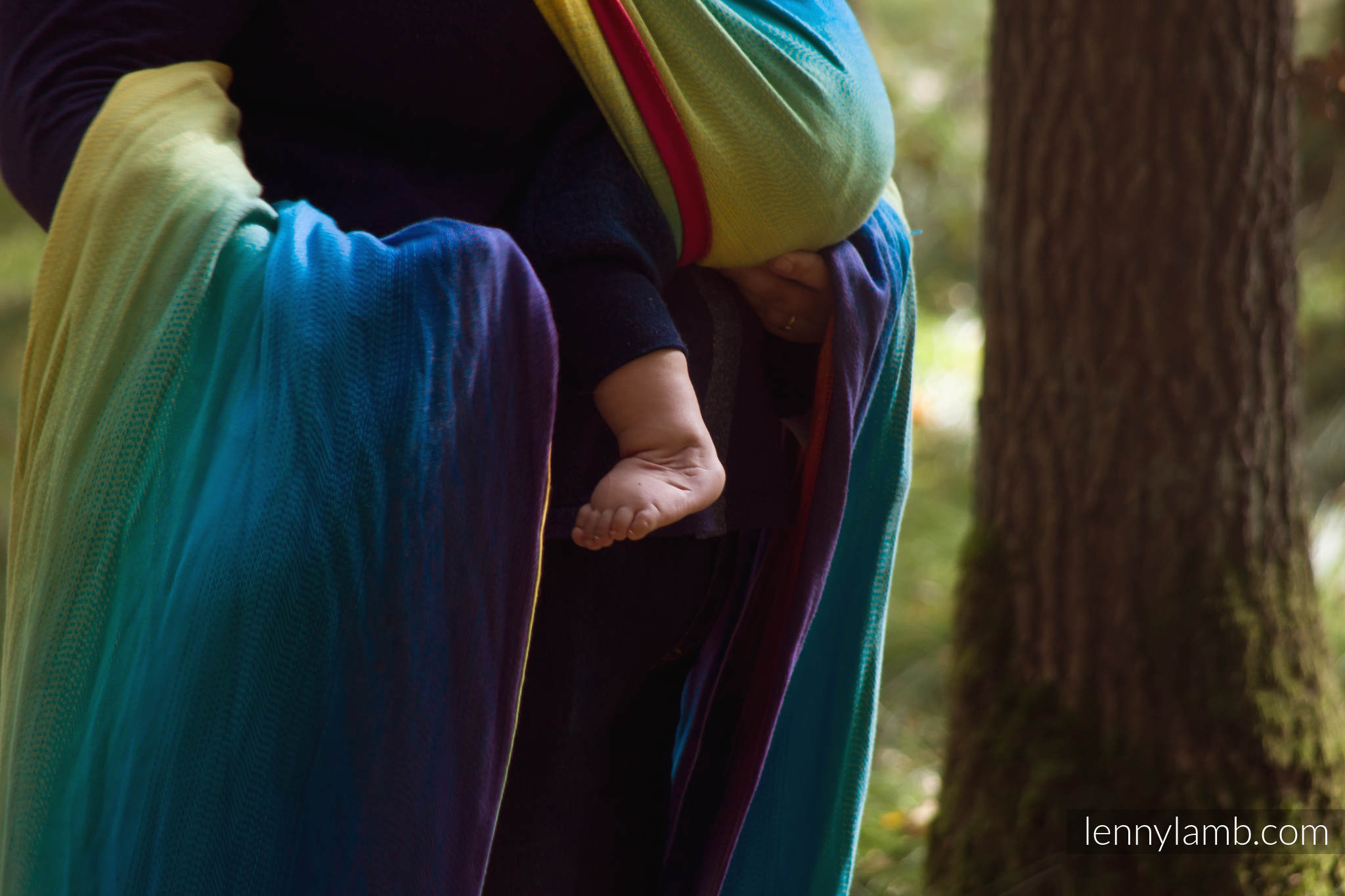 Aleksandra Pawlisiak

Our story begins like many others: love, marriage, and then - we thought - a child who would complete our little world. A few months after I made the decision about the child, I felt that I finally succeeded! Full of emotion, I took a pregnancy test and I was stunned - it was negative. I couldn't believe it. I tried to control myself, to talk some sense into myself, but my intuition did not leave me alone. I felt like I was pregnant! I did blood tests, the results were clear: I was right! I immediately bought some wonderful tiny shoes, drew a big heart around the test result with a red marker and gave it to my husband. We were so happy! Unfortunately, on the same day the first disturbing symtoms appeared. I went to see the doctor, he said that the pregnancy was very early and that we had to wait. So we waited full of anxiety and hope, but on the next visits our joy was returning: the embryo was growing, although slowly, and when the doctor finallyshowed us a beating heart on the screen, we breathed a sigh of relief. We believed that from that moment on everything would be fine. Unfortunately, during the next visit it turned out that our baby had not grown enough and the heart was not beating as it should. It was December 23rd. The doctor told us to keep the hope, because 'it's Christmas, and on Christmas even miracles can happen'. Unfortunately not in our case... December 27th - it was our to be or not to be... A motionless image on an ultrasound screen... Our Christmas miracle did not happen - our little one's heart stopped beating. The leading doctor came to me in the hospital. After a short conversation he said 'you must be strong... Remember: you are like an armadillo and nothing will move you'. After leaving the hospital I went to the tattoo studio. The first free term. The armadillo is with me forever.
Almost a year later I did a pregnancy test again. The first visit just before Christmas and again the same thing: the pregnancy is early, you have to wait. 27.12 we were sitting in the same waiting room again, experiencing a terrible deja vu - we were waiting to be or not to be. This time the image of the ultrasound was not motionless: the heart was flickering evenly and strongly on the screen. Today our rainbow daughter is over 2 years old and every day she challenges us for two.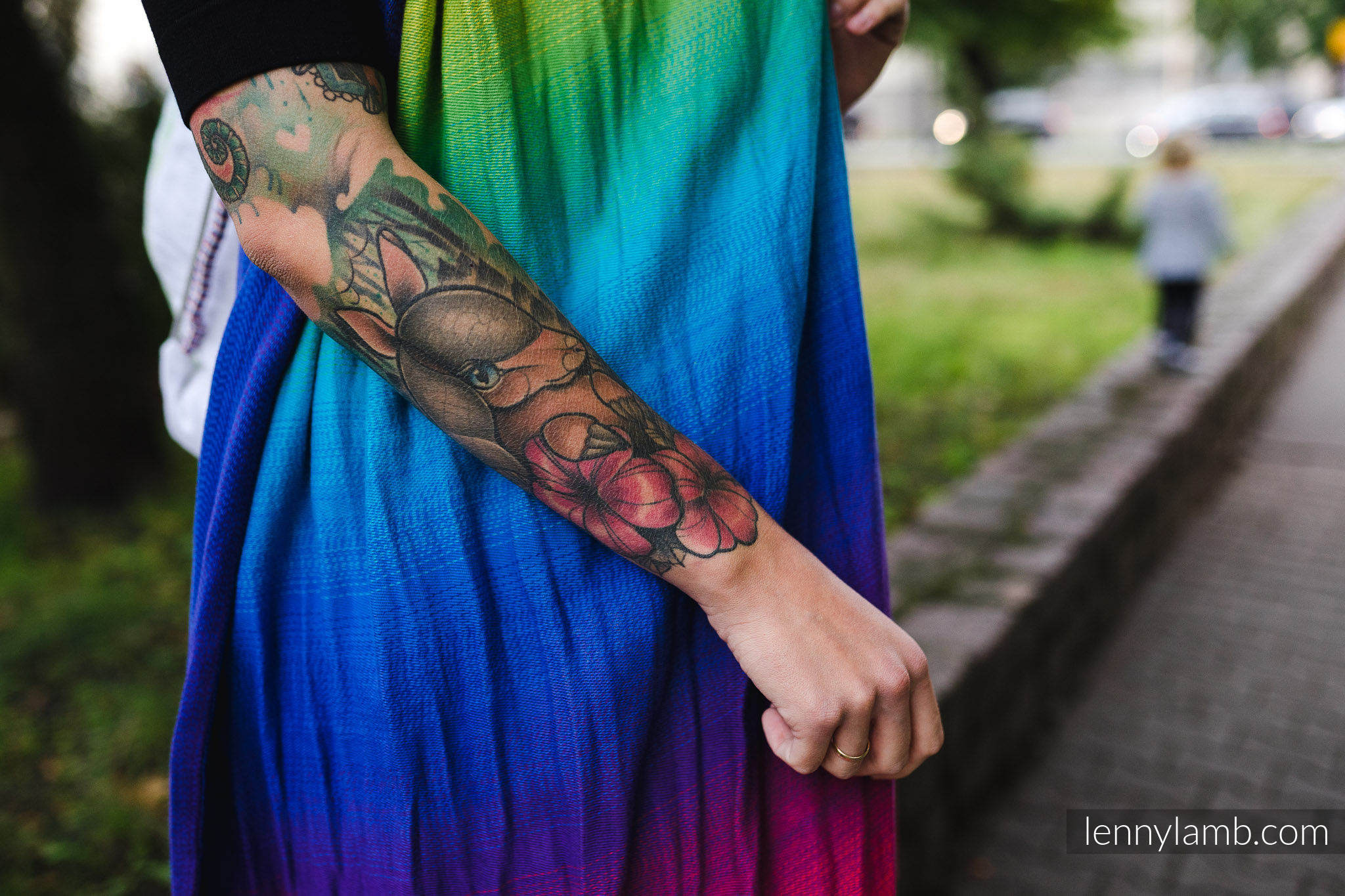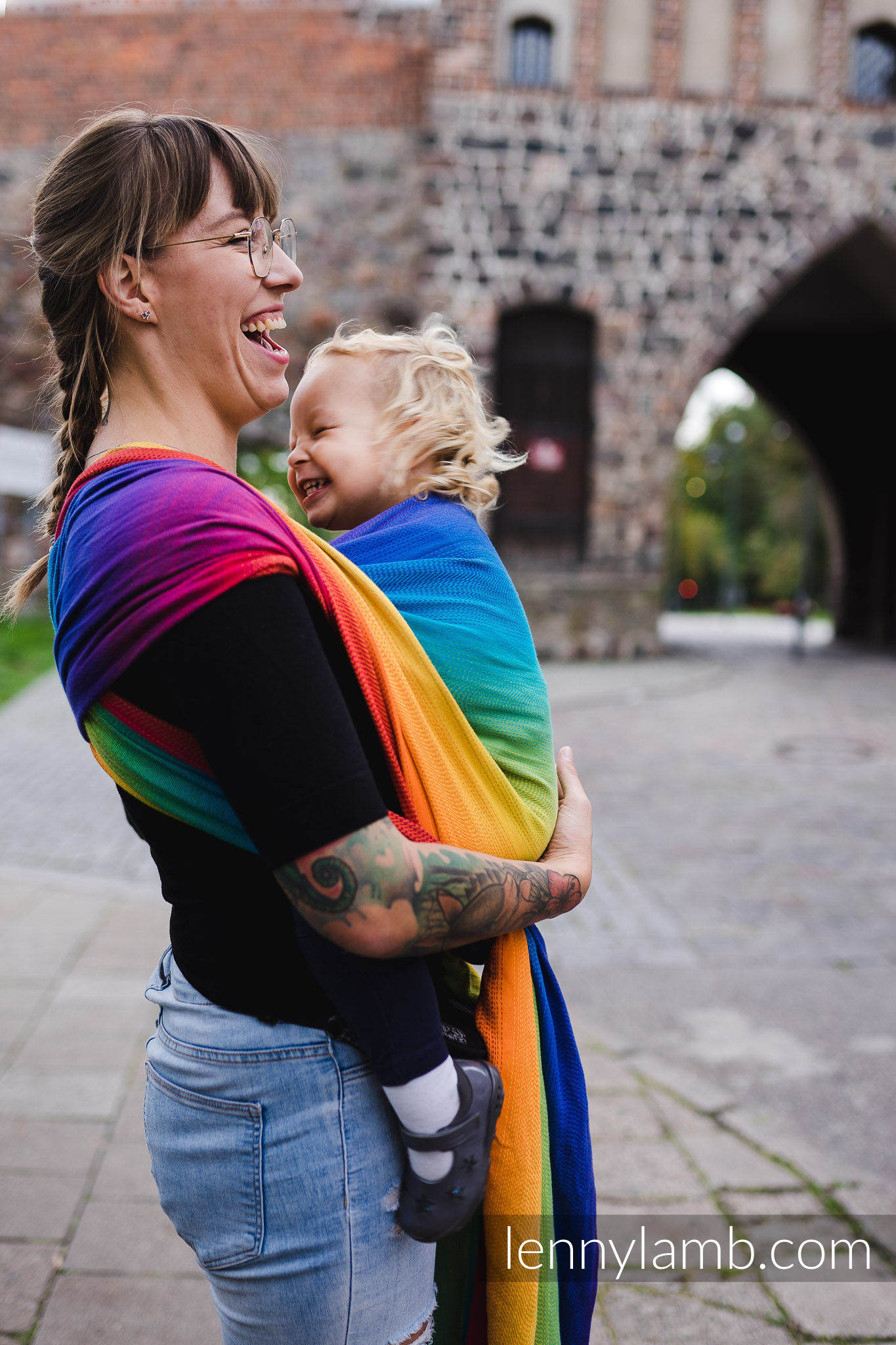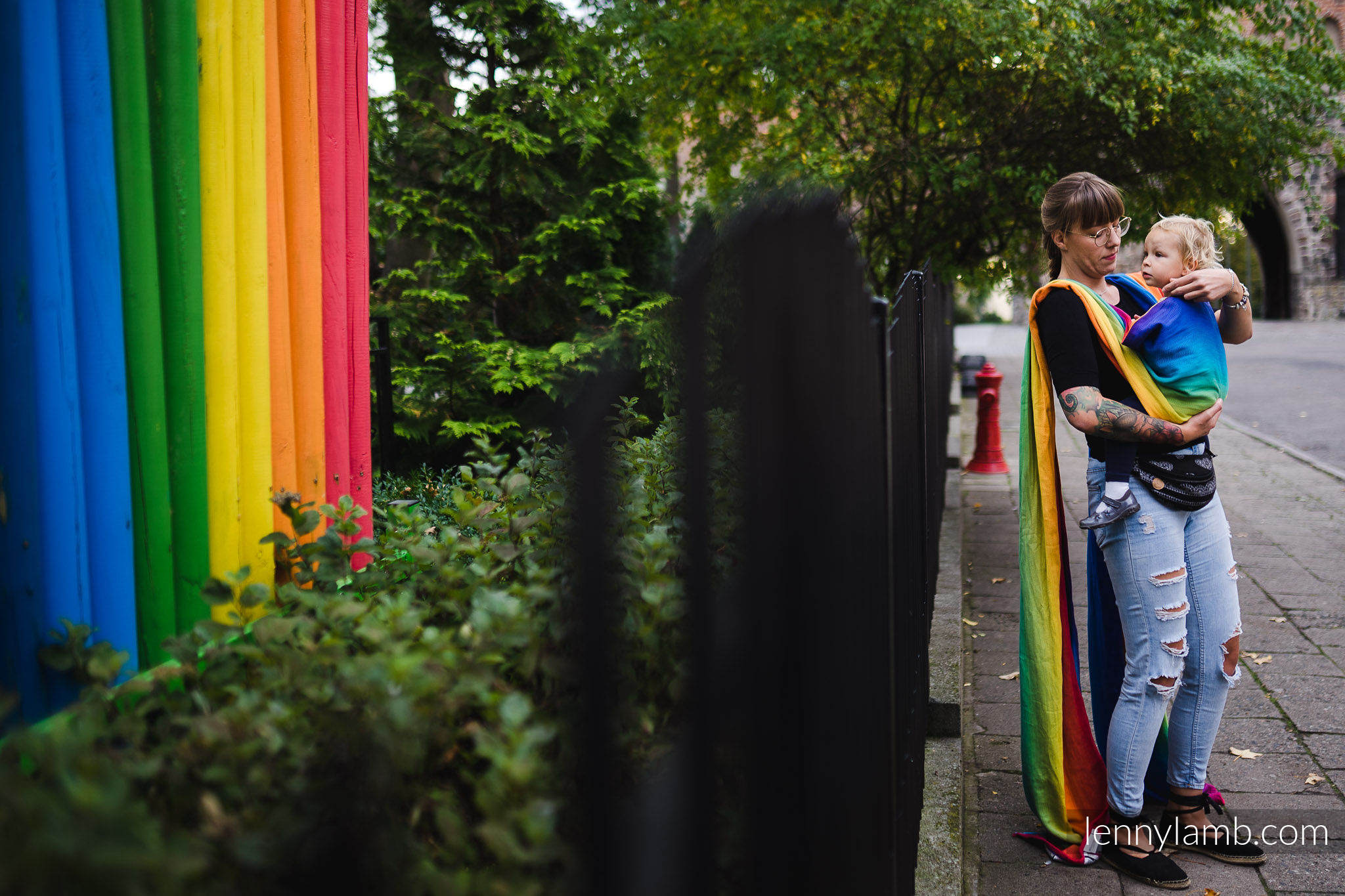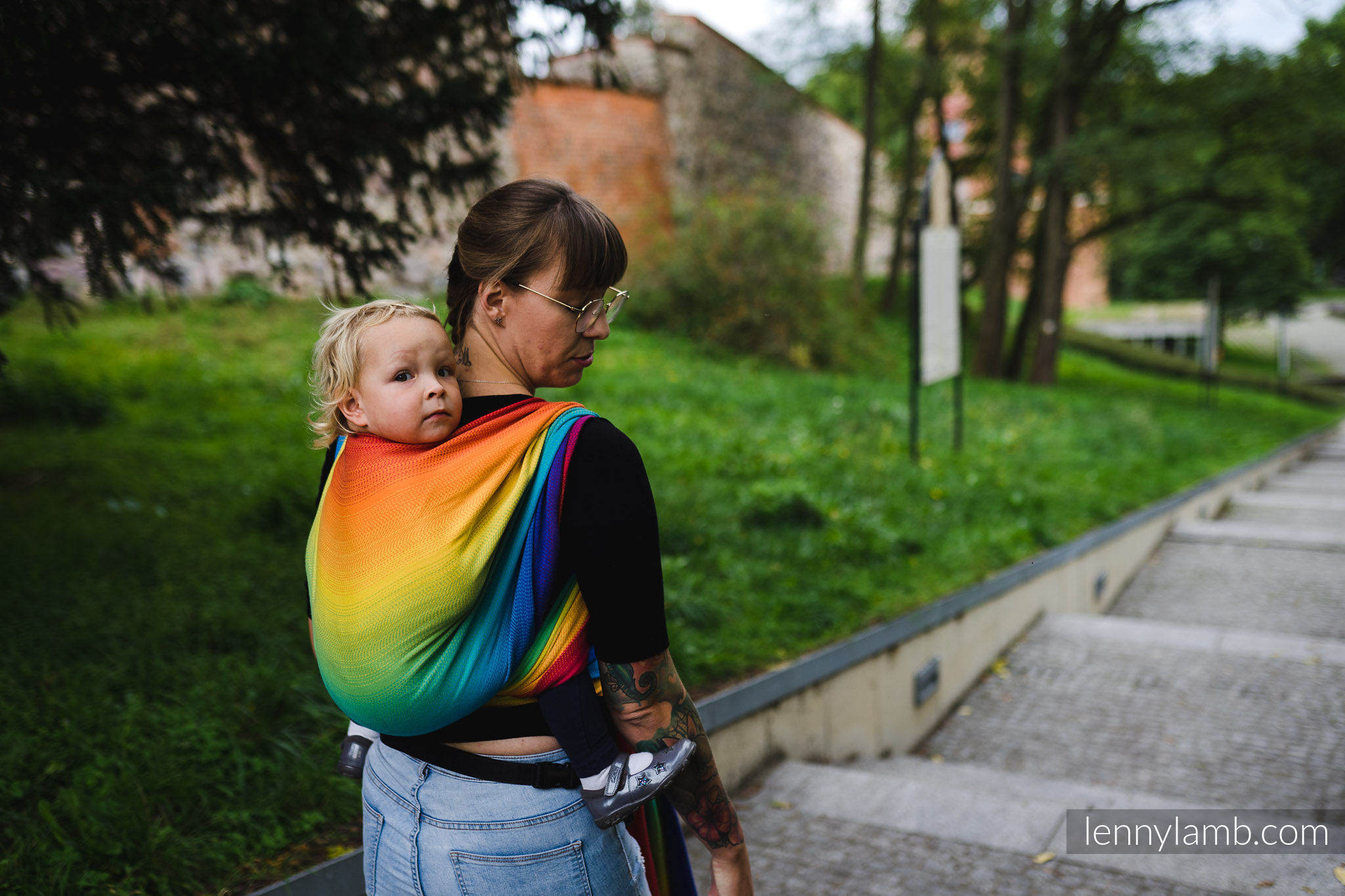 Hedwych Veeman
I've always wished to have 5 children. As a single mom with 3 kids I chose to have another baby without a partner by my side. At WEAR ( a babywearing event in the USA) early March I tested positive and allthough I knew it was still early I bought my first things for the baby. I couldn't resist all the babystuff at the show.
A few weeks later at the check up the image on the ultrasound didn't match up with the weeks I claimed to be pregnant. The gynecologist tried to remain encouraging and made me come back 2 weeks later to see if there's any growth. Sadly there wasn't.
Hoping my body would deal with it I was allowed more time before talking about other options. Weeks passed but nothing happened. It was an awful feeling to see your body changing (obviously my belly and breasts still thought I was pregnant…. I was really looking pregnant), it conflicted with knowing there's no life inside.
Just before Celine's Birthday the gyn decided it had been too long. 'missed abortion' is what they call it. I had to have a curretage, where I lost quite some blood but after a few weak days I was up again.
The hardest thing about it all was going through this alone, without a partner. Still it didn't keep me from trying again after a few months.
Felice, my rainbow baby, was born exactly one year after the removal. (not on the same exact day, but in the same week).
There will always be moments where you wonder about the one that's missing, but Felice makes up for a lot of tears with his great smile.
I feel very blessed to have 4 healthy children and wish for other parents (to be) that they will see the rainbow after the storm too.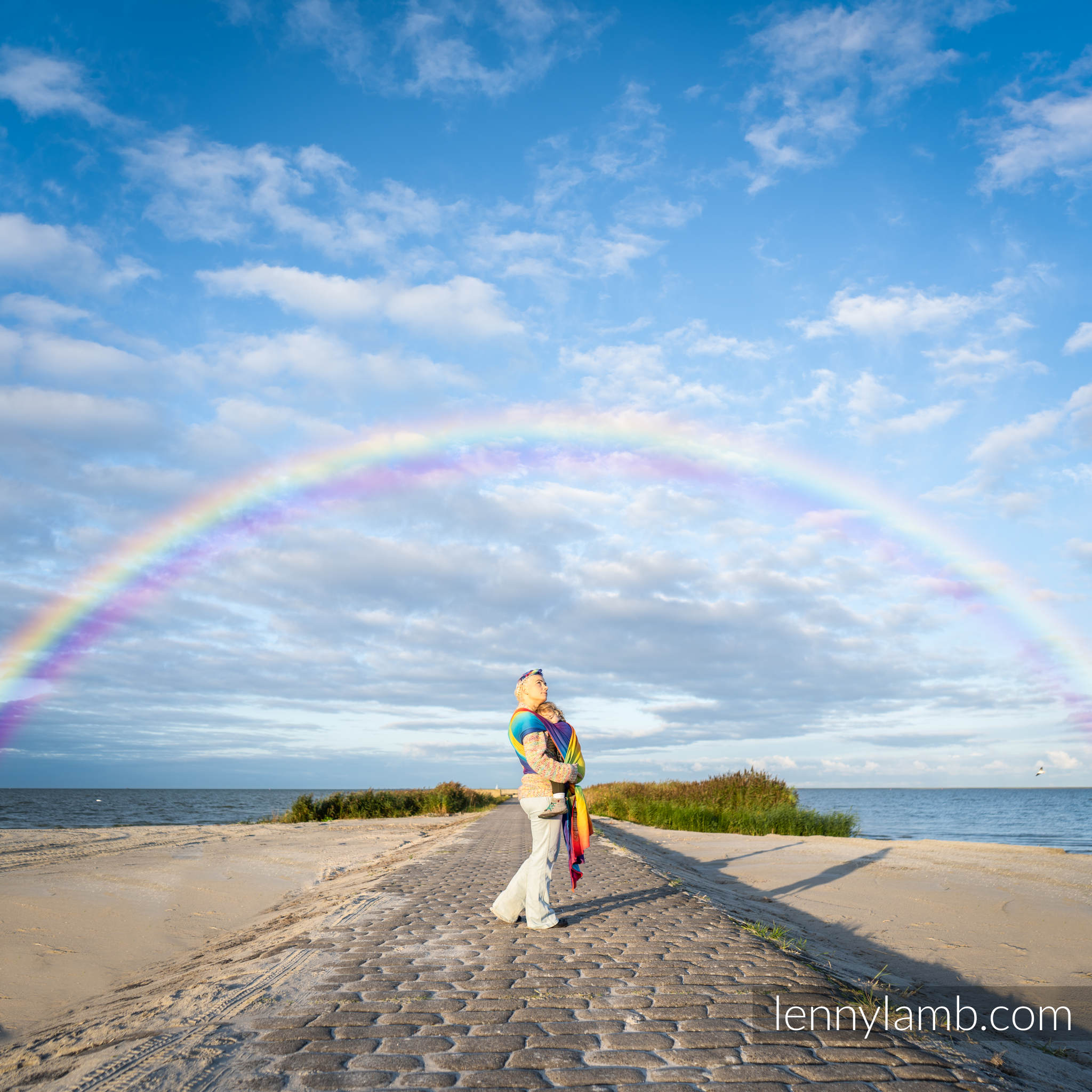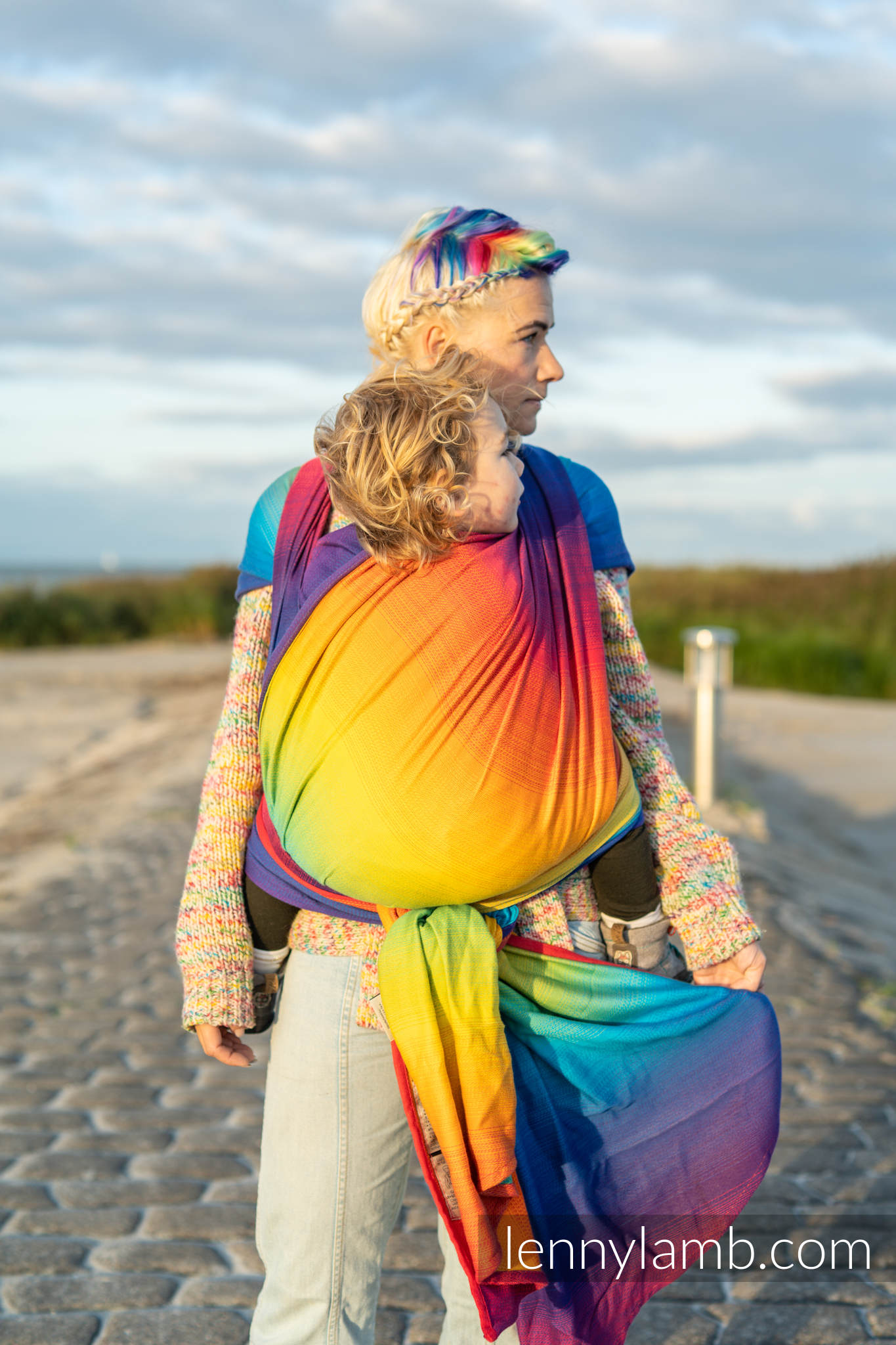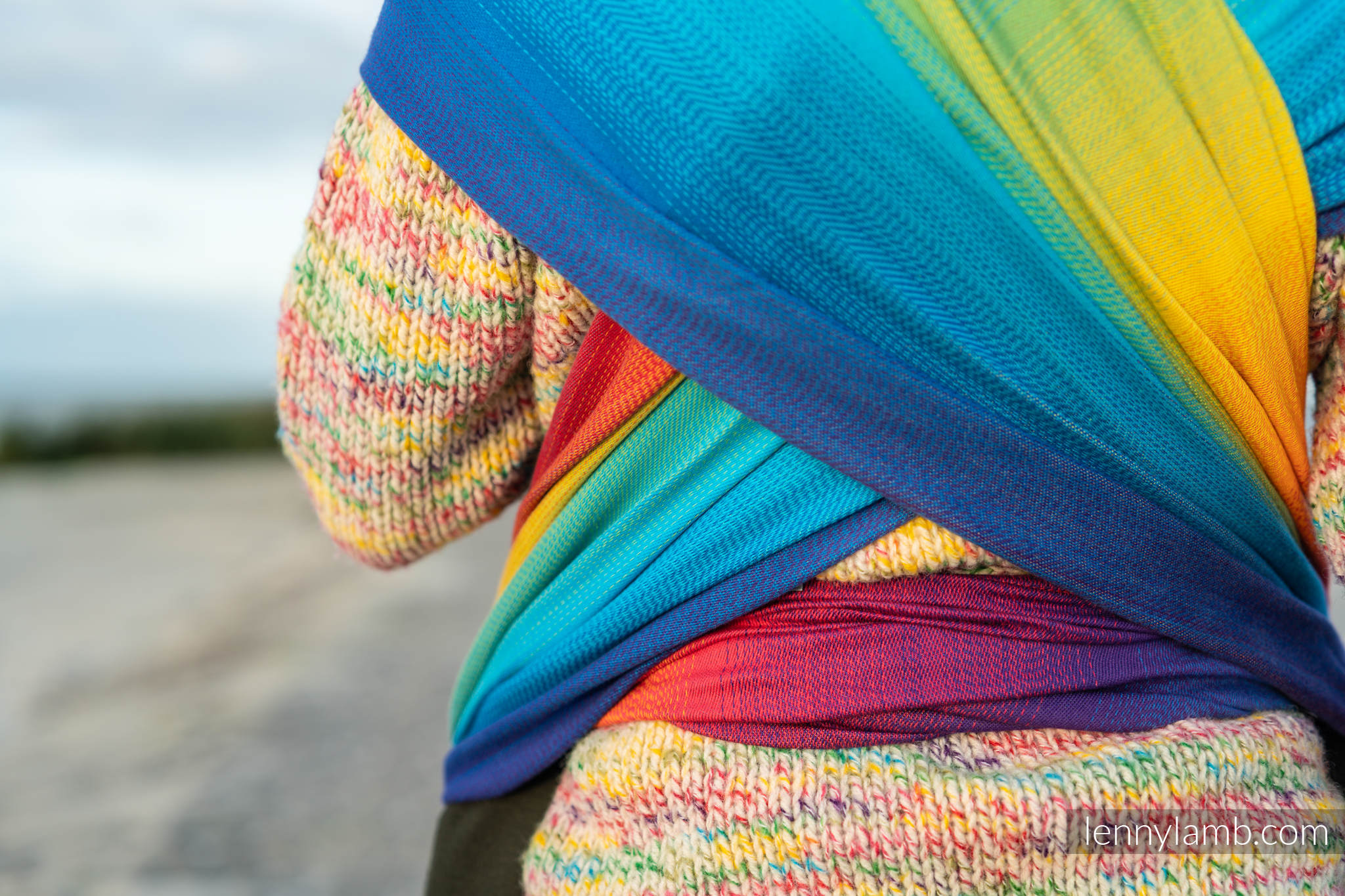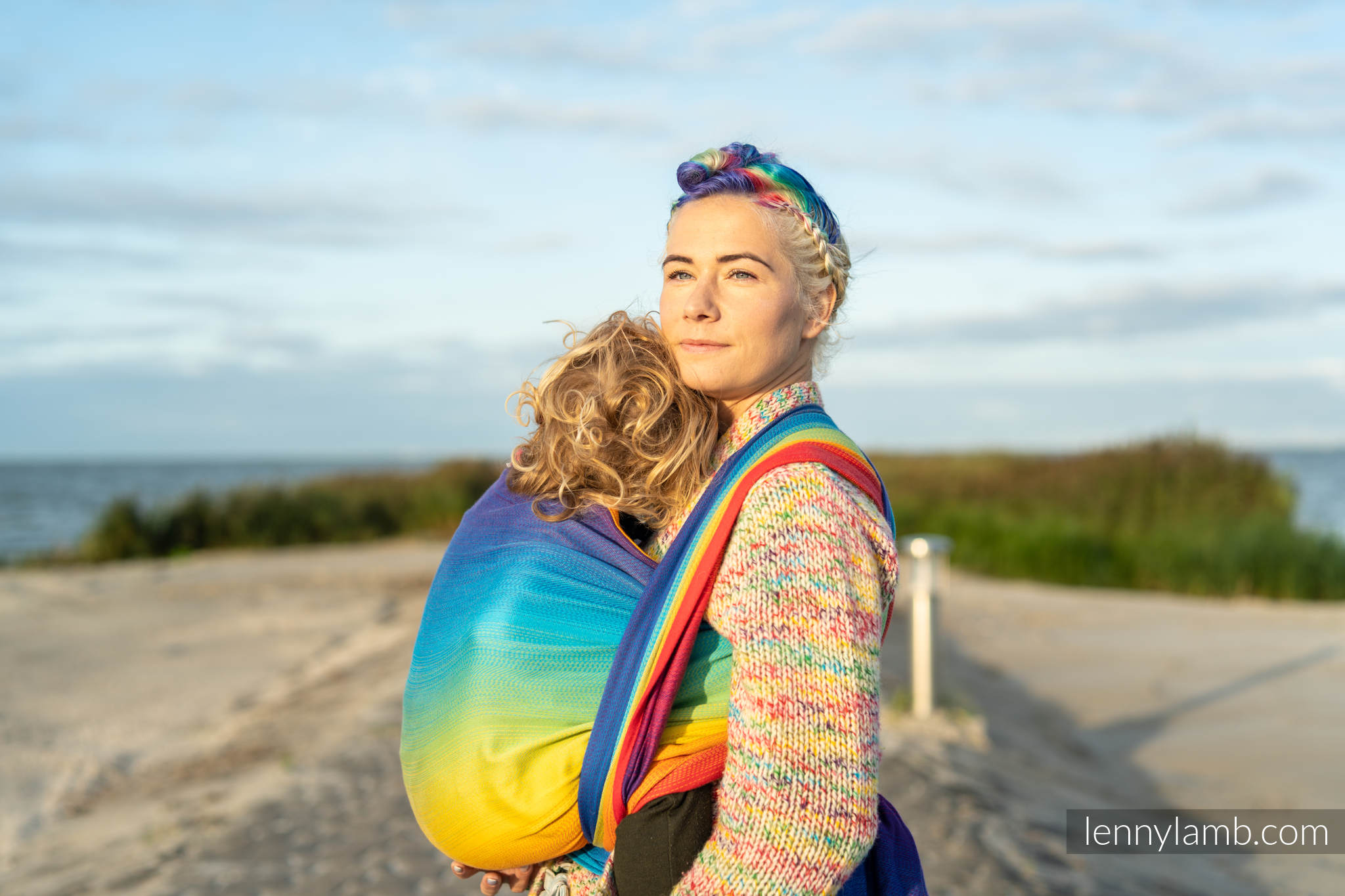 Anna Rożek
Shortly before the labour I found myself in hospital, the risk of death in the perinatal period was real, I did not feel any movement and panic looked into our hearts again..... fast ultrasound and it turned out that everything was fine, but the baby's movements were still being monitored, a week later, after a difficult labour, Martynka was born, the best Christmas gift we could get.
My dream came true, the emptiness in my heart was filled - the emptiness that had accompanied me from the loss of my son, he gave me the honor of being the mother of the Angel, he watches over us and I see small signs that prove it in everyday life, and Martynka brought back the smile on our faces, it is like a rainbow after a storm for us. Only together we were able to experience this pain, sadness, to wait together for the happiness of the birth of our daughter, I think that mutual support gave us strength.
I am thinking now why I wrote this story... After my son's death I was looking for information and support on the internet, it wasn't much, so if my story helps someone understand, lets them take a step further to survive and believe that there can be a happy ending, I know that it is right to write about the rainbow baby I was lucky to have born on 19.12.2019.
Anna Natalka, Bartosz, Miłosz and Martynka's mom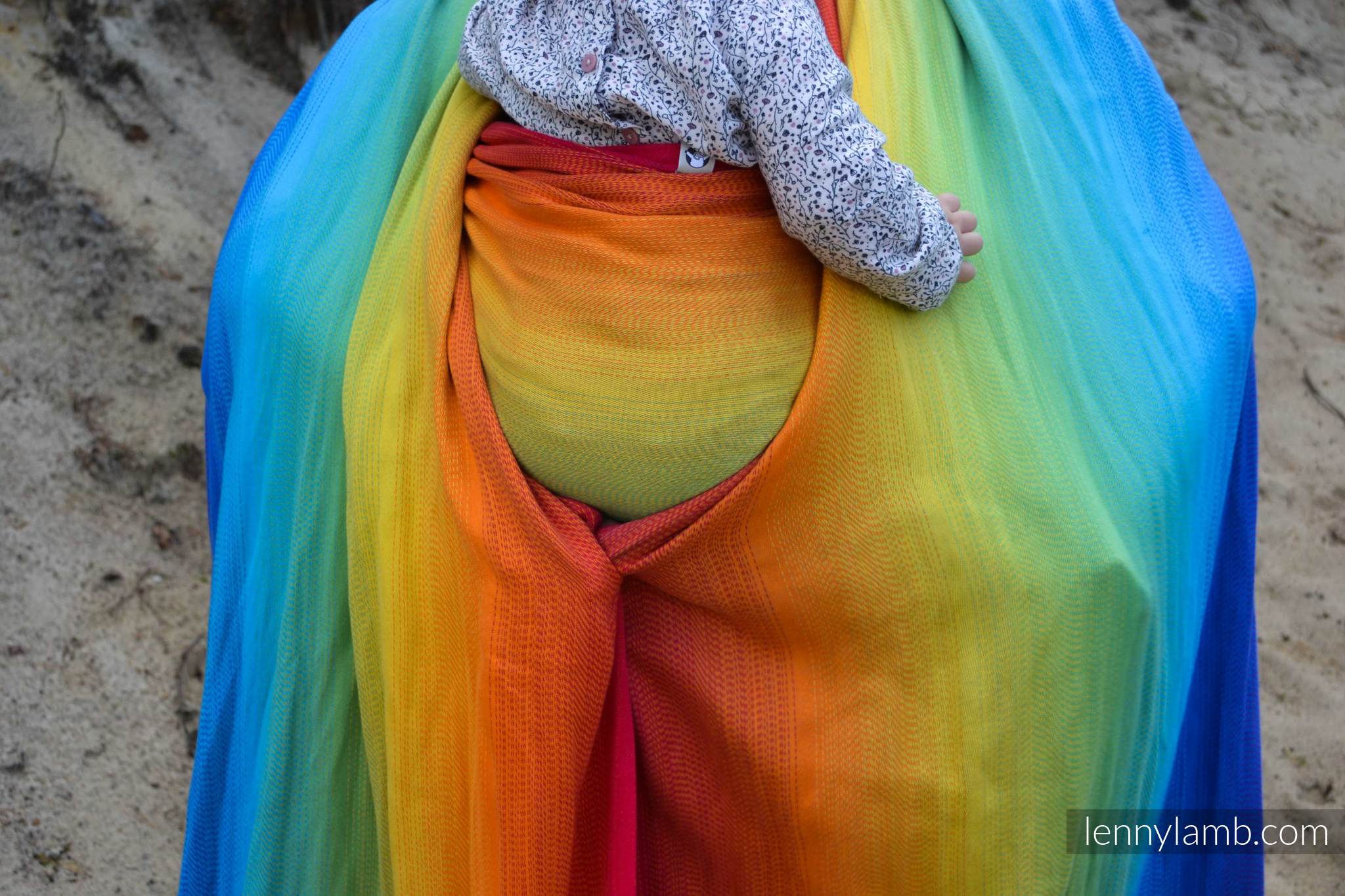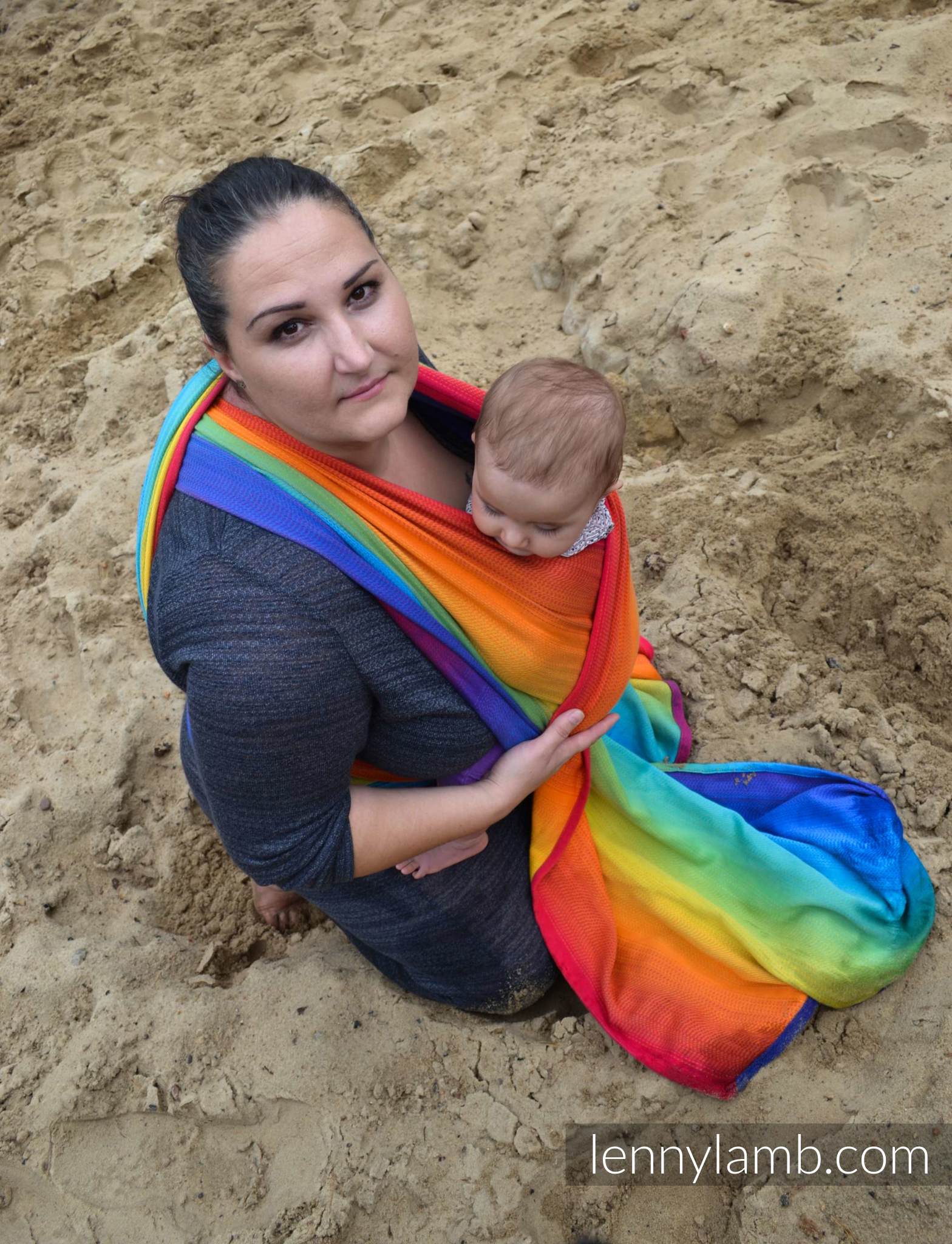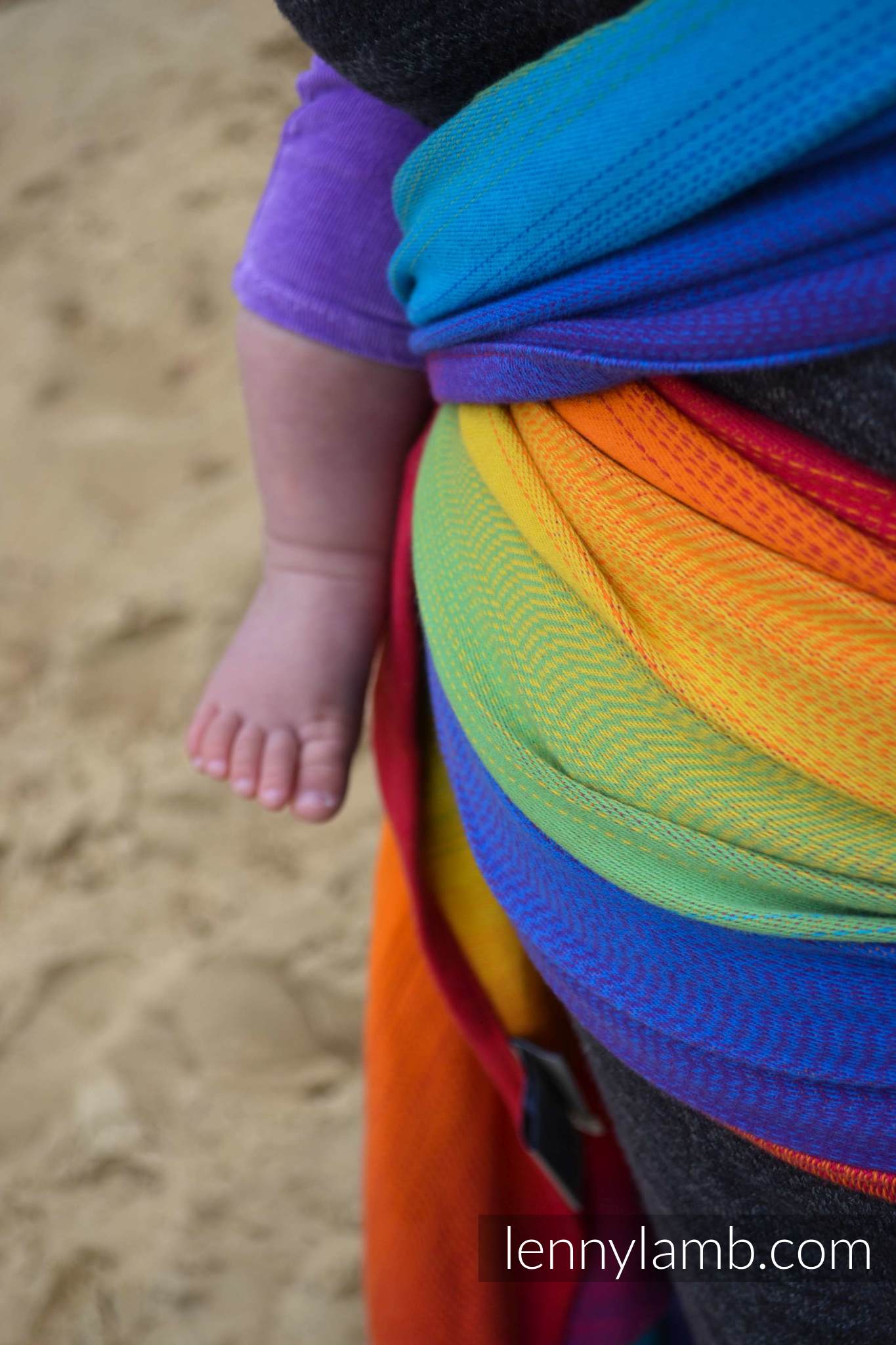 Bożena Warpas
My name is Bożena and I am a mother of 5 children. Two daughters - Patrycja and Wiktoria, one Angel and two sons - Piotruś and Wojtuś. The day of October 15th has been very difficult for me for 4 years. In 2017 my heart broke and I felt as if I was sinking into some infinite abyss...
It was an ordinary day. Although not entirely. March 13th... my name's day and anniversary of my mother's death. The 13th, so unlucky. It started innocently, with a slight spotting. I had one in my first pregnancy, I was not worried. When it got worse, I called my husband, we went to hospital. As I had already assumed then, the miscarriage was confirmed. I was to stay for observation. I left hospital at my own request, because mentally I was not ready to stay there. The only thing I felt was the overwhelming darkness. The evening had come. I hoped that when I woke up in the morning, it would all be just a dream...It wasn't. A week of time I just cried. Mentally, a visit to my gynaecologist helped me a lot. He explained what happened, very medically but also tactfully and gave the green light for further efforts to get pregnant. I got pregnant in the first cycle. Pregnancy went smoothly, we were expecting another daughter. When I asked about the sex at the last ultrasound, it turned out that it would be a boy. I dreamt that one day I would have a son, Piotruś. We did it! I think he received a double dose of love from me, I was staring at him all the time. He had a great need for closeness, and I loved to hug him. I wore him in a wrap practically every day. The wrap became an inseparable part of my life. Thanks to it I got to know other babywearing moms, I went out to people, I started to be not only a mother of my children, but I rediscovered myself.
After one storm, the sun came up for us twice and in the following year we again enjoyed a positive pregnancy test. Another rainbow son joined our family - Wojtuś! When he was four months old I did a course for a babywearing consultant. And so babywearing became not only my hobby but also a way of life. Now he is one year old and I babywear him every day.
I hope that our babywearing adventure will last as long as possible, and for each parent after the storm a rainbow will come out and each parent will hold the awaited baby in their arms.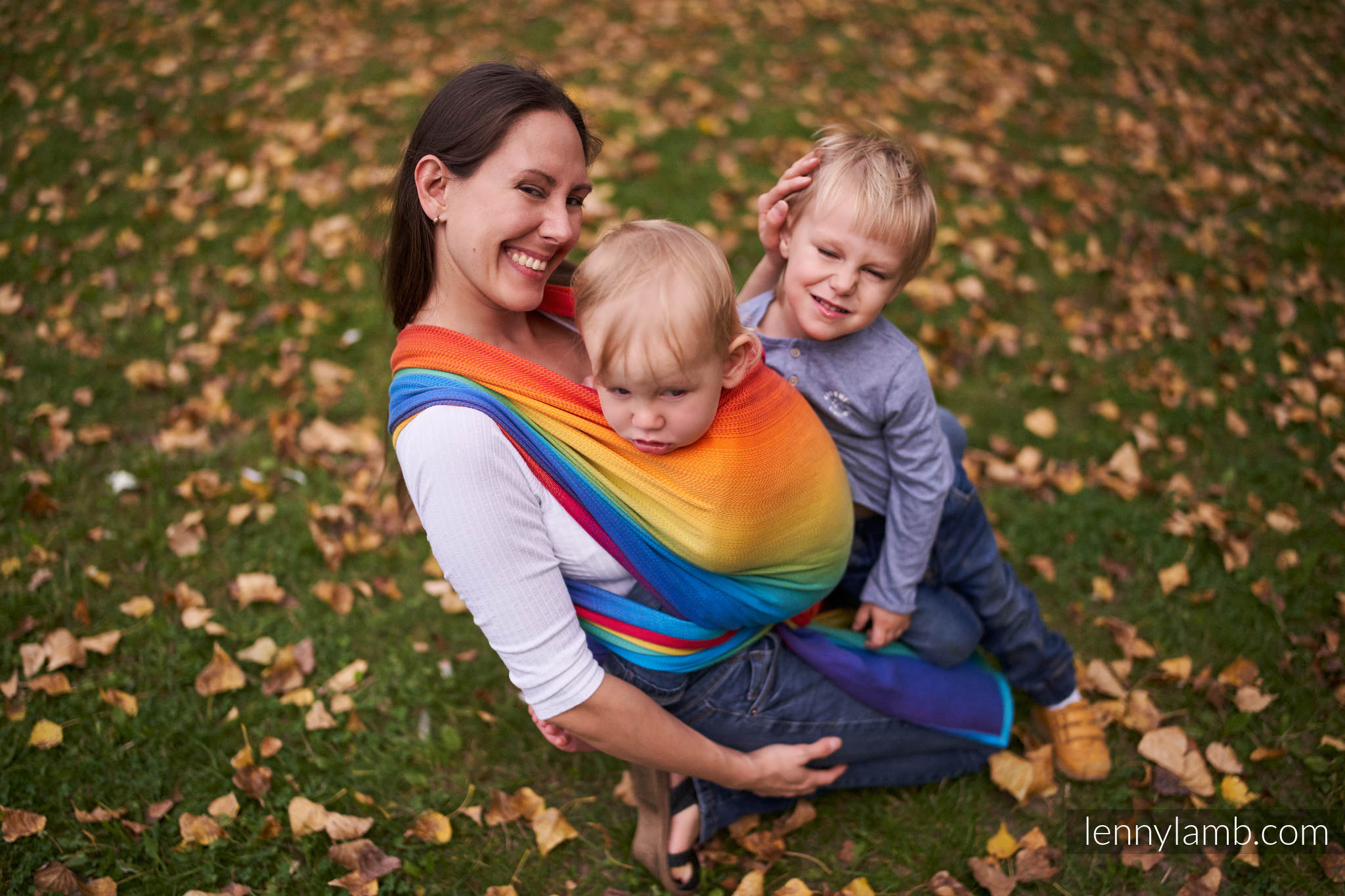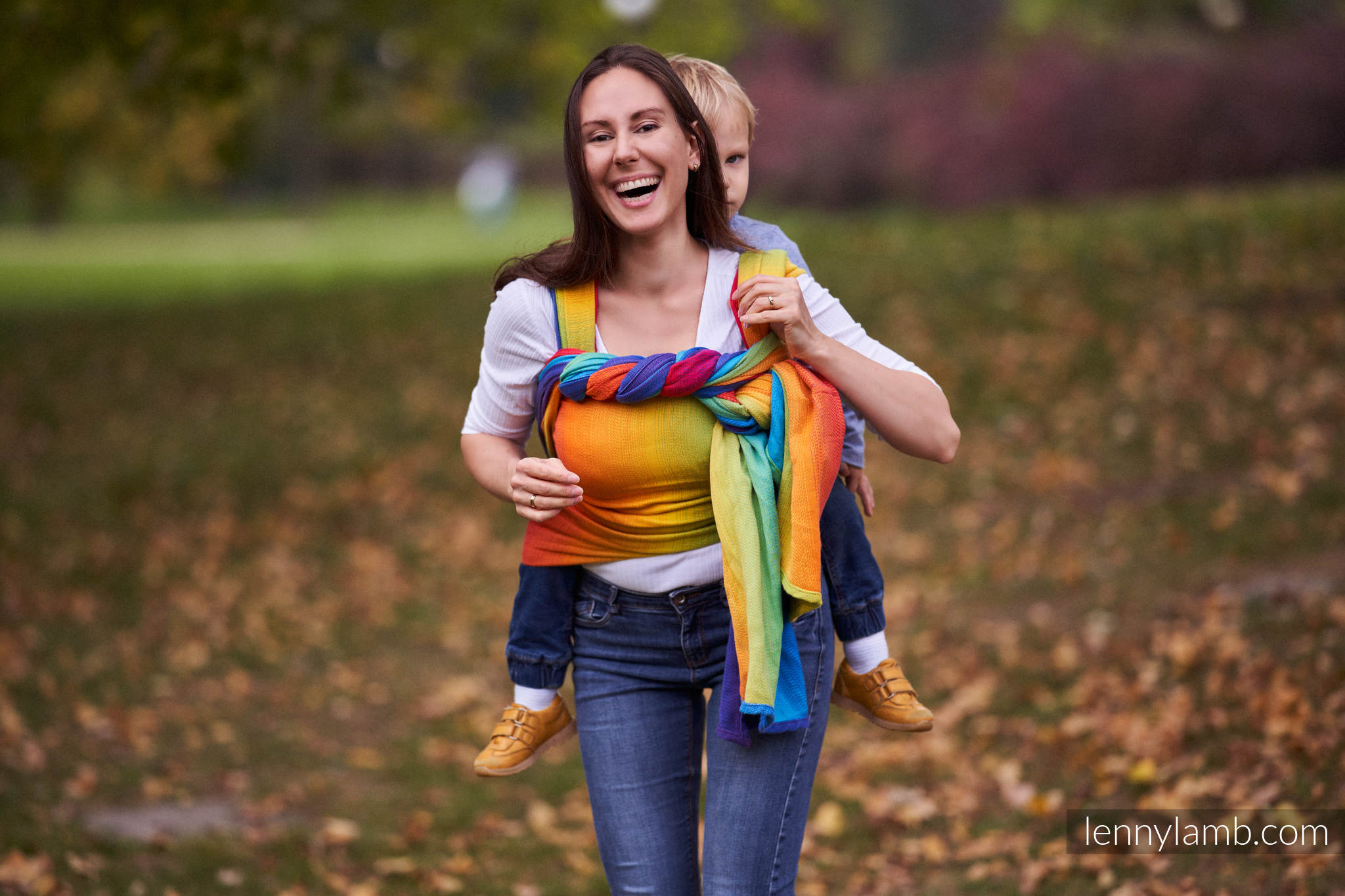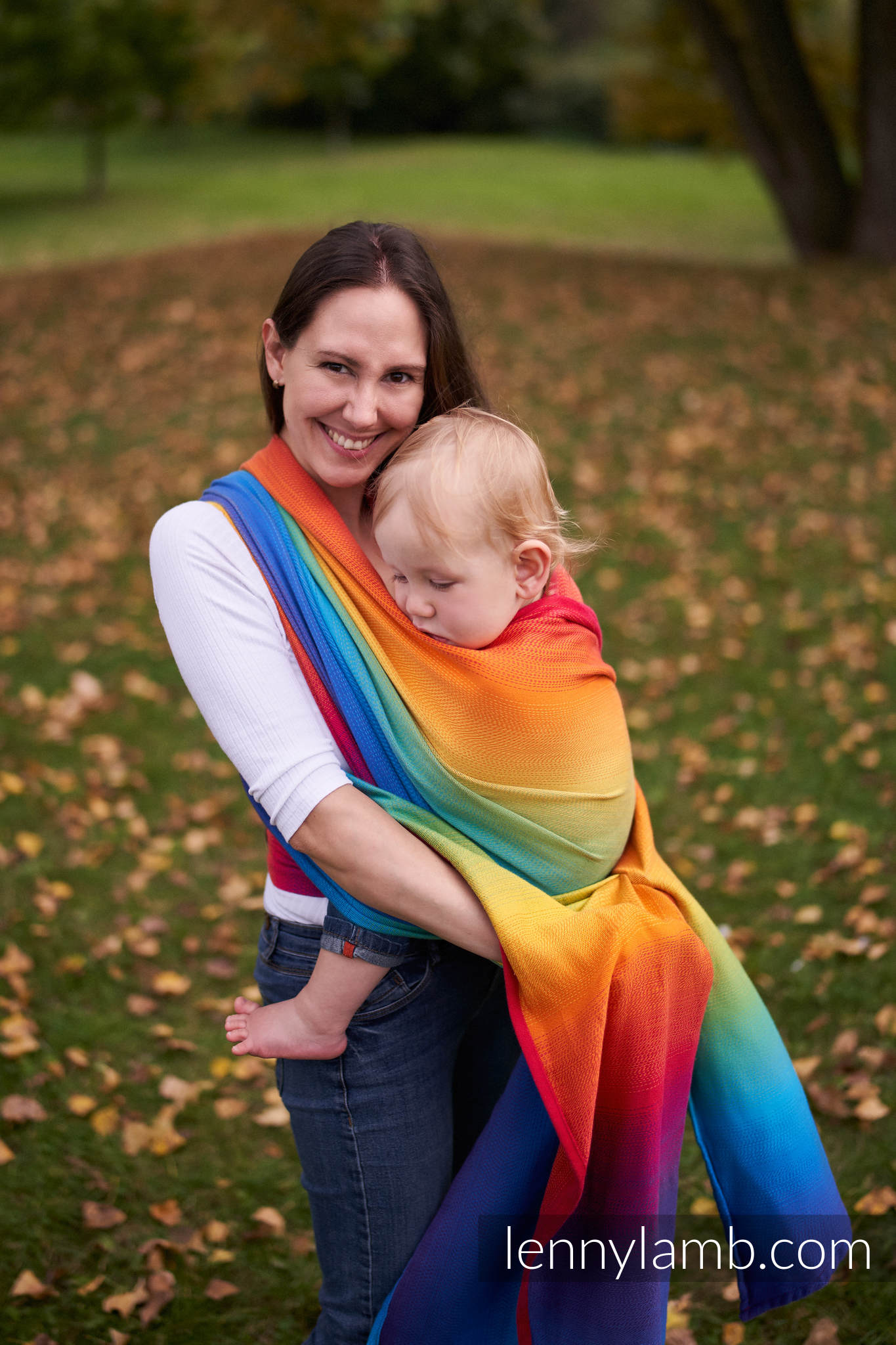 Emilia Burzyńska
My name is Emilia and together with my husband Łukasz we are parents of three little ones. Our firstborn daughter Julia will soon turn 5. From the beginning we wanted to have 2-3 children with a small age difference.
The first pregnancy went smoothly, so when I got pregnant for the second time more than a year after Julia's birth, we immediately wanted to show off to our family. I was 7 weeks pregnant then and started bleeding at work. I felt that something was wrong. The visit to hospital confirmed my concerns. After a few days at the check-up visit the doctor calmed down telling me that it happens quite often in the first trimester and does not have to mean problems with the next pregnancy.
We needed a moment for ourselves to relax and calm down our emotions. Two weeks later Julia stayed with her grandparents for the weekend and we went to Szklarska Poręba to rest by ourselves - that's what we needed and... exactly nine months later our "rainbow" Michalinka was born. During the first trimester, I was very anxious, fearing that I would miscarry again, but the pregnancy was fine and my daughter was born healthy.
Less than two years later my son Nikodem came to the world. Each of our children was carried in a wrap, but it was Michalina who motivated me to become a babywearing advisor. Today Michalinka is a typical daddy's daughter - as you can see in the pictures! Now only daddy can sometimes wear her in a carrier.
Julia, Michalina and Nikodem - these three are our whole world!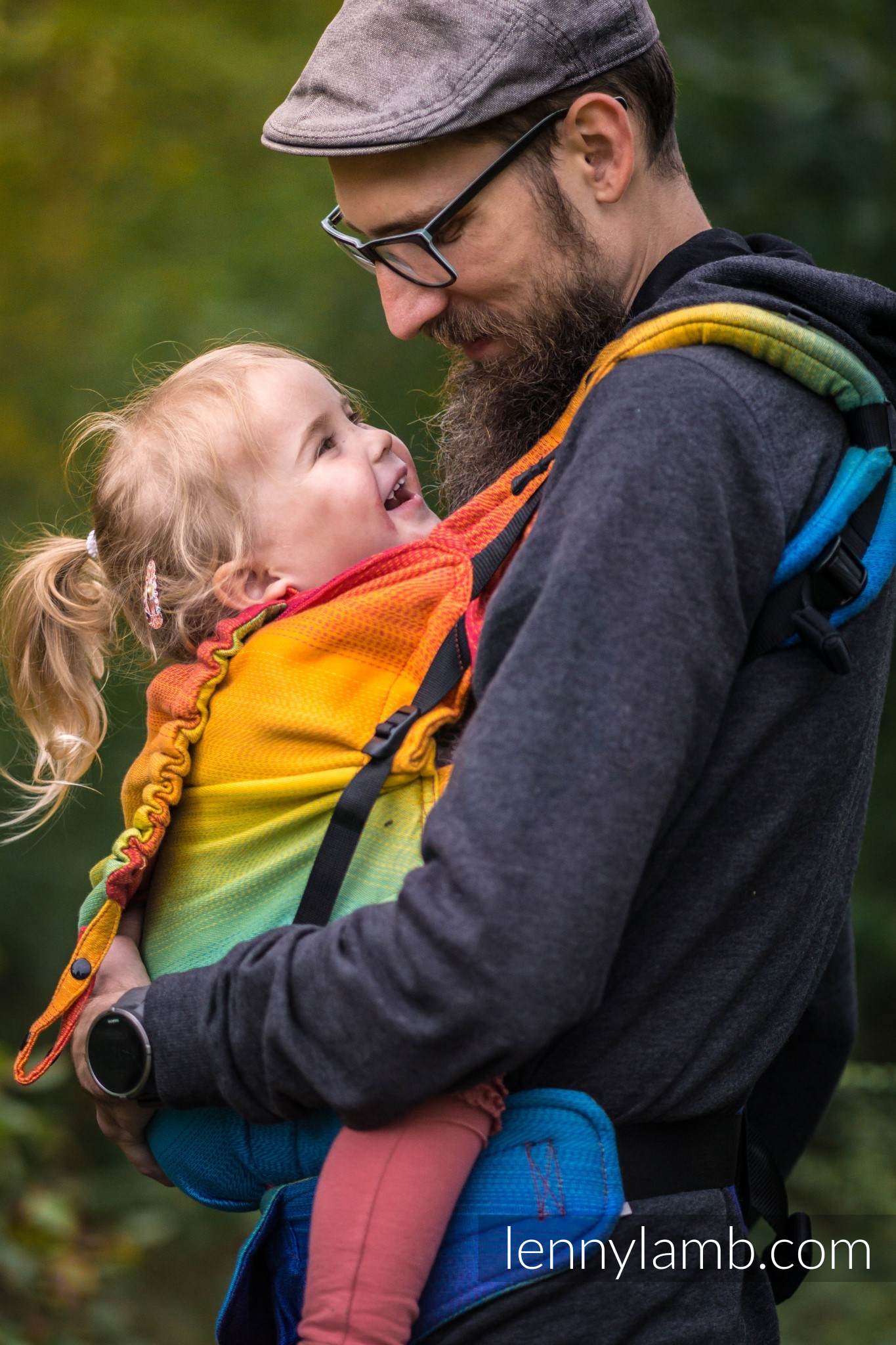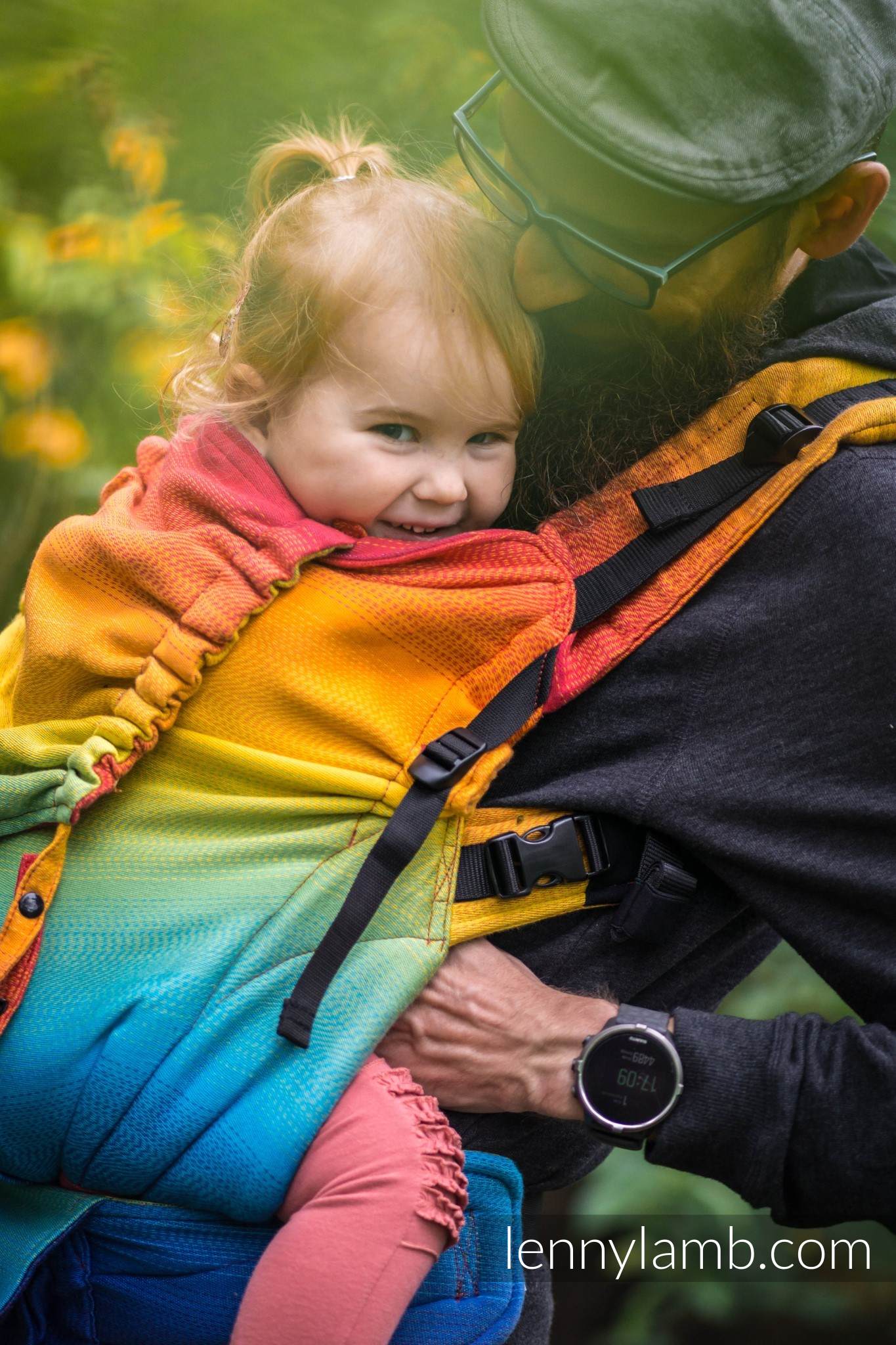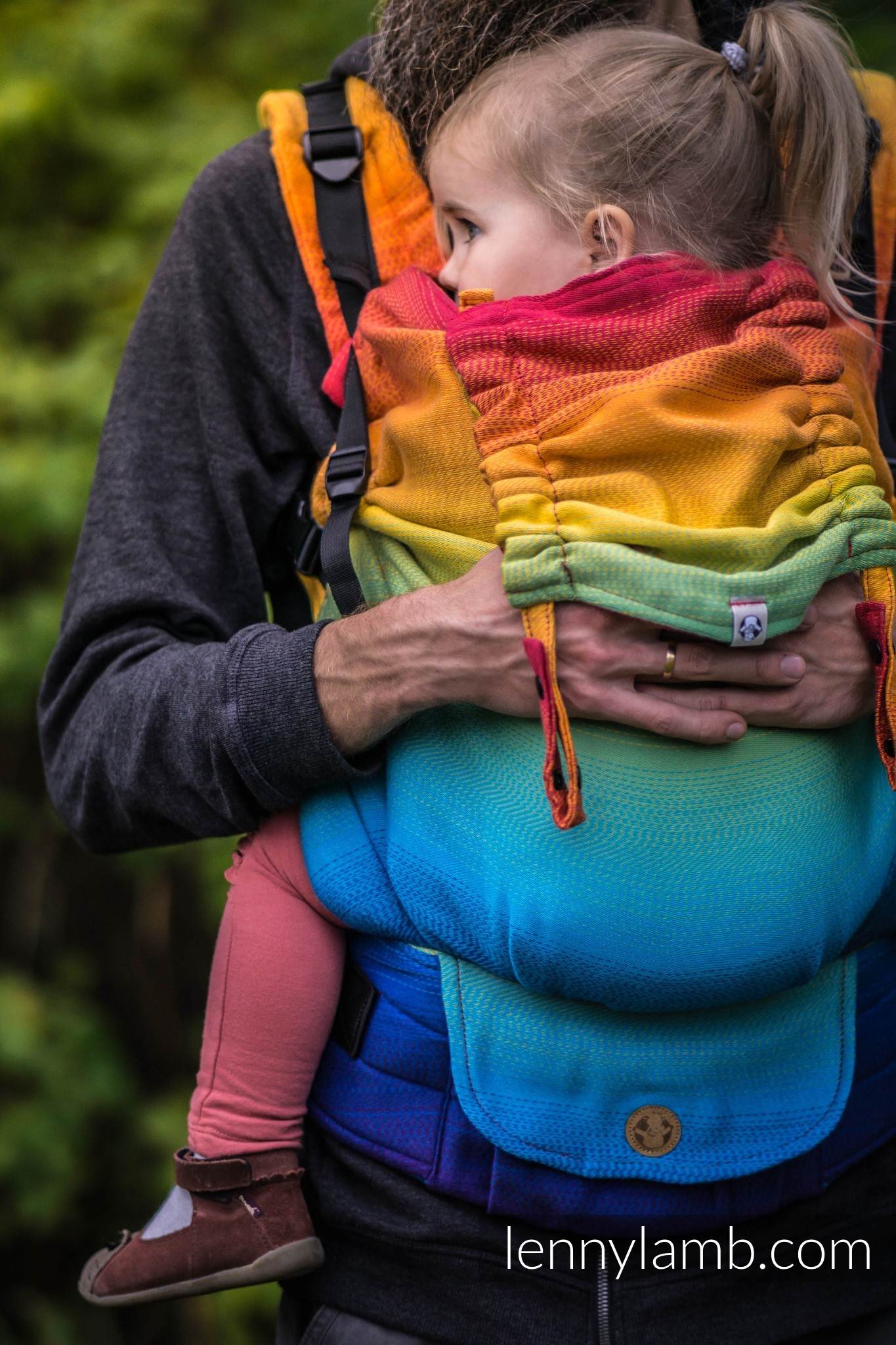 Katarzyna Kustosz-Burnac

My story begins simply... The wedding, the decision about the child, soon two lines on the pregnancy test. A doctor's appointment. The doctor does the test - everything seems all right. He is doing an ultrasound... Black hole... Shreds of words... Heart is not beating... Referral to hospital... The threat of sepsis... Please get dressed... The doctor is writing the papers, I am squeezing the pregnancy book and I don't have the strength to say a word, tears are falling on their owns... My husband is waiting behind the door until I invite him to show him that a pea has turned into a bean, which has arms, legs and head. I am leaving. The doctor tells him to pack me up and take me to hospital.
For me the worst part about the loss was the fast that most people denied it. It is only an early pregnancy (No. For me it is my dream child). Be happy that it's now and not later or at birth (I'm supposed to be happy that my baby died faster than later?). Don't worry, you will have another baby, everything will be fine (I didn't lose my umbrella. I lost my baby. This baby). You will have another one you will forget (I haven't forgotten and I have two more).
After the loss, which we had to work through, it was a long time before we could get pregnant again. Eventually, there were two lines of dreams and with them a whole sea of fears, anxiety, listening to every little wrong symptom, counting the movements, frequent visits to the doctor and every ultrasound. I was afraid to breathe. I gave birth to my rainbow son in the 35th week of pregnancy. And the fear of the baby started... After the birth of my son we had to wait a very long time for the next pregnancy again. The appearance of two lines on the test was a miracle. Pregnancy counts in weeks. And those after the loss and birth of a premature baby counts like this. Let's just hold on until 13 weeks - the risk of miscarriage is reduced by 60%, let's just hold on to 24 weeks - then the chances of the baby are equal and there are 50 by 50%. Let's just hold on until 32 weeks. Then already 90% of babies are born practically healthy... 36th week + 1 day - it's already a term pregnancy. The baby was born on time. She was born on time and was healthy.
Today I have two wonderful children. I am grateful to God and wonderful doctors for them. And I would like to tell the moms for whom the world today is covered by a black sky - I wish with all my heart that a rainbow would appear for you after the storm... And to the moms who have never experienced this I would like to say - you are lucky. Others sometimes do not have it. Therefore, never judge the fear of your friend, cousin, sister-in-law or neighbor. Because you may not know what is hidden behind this fear.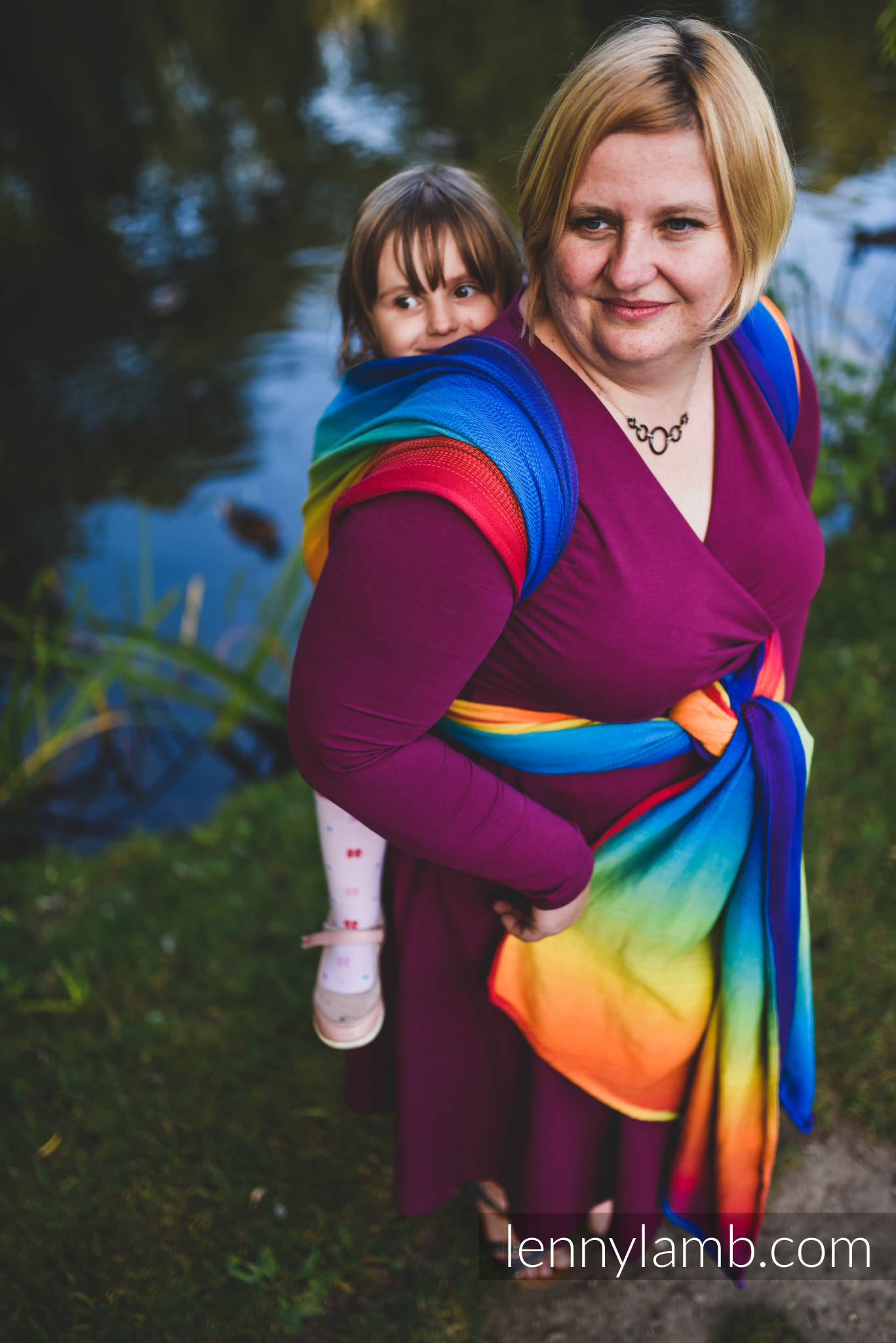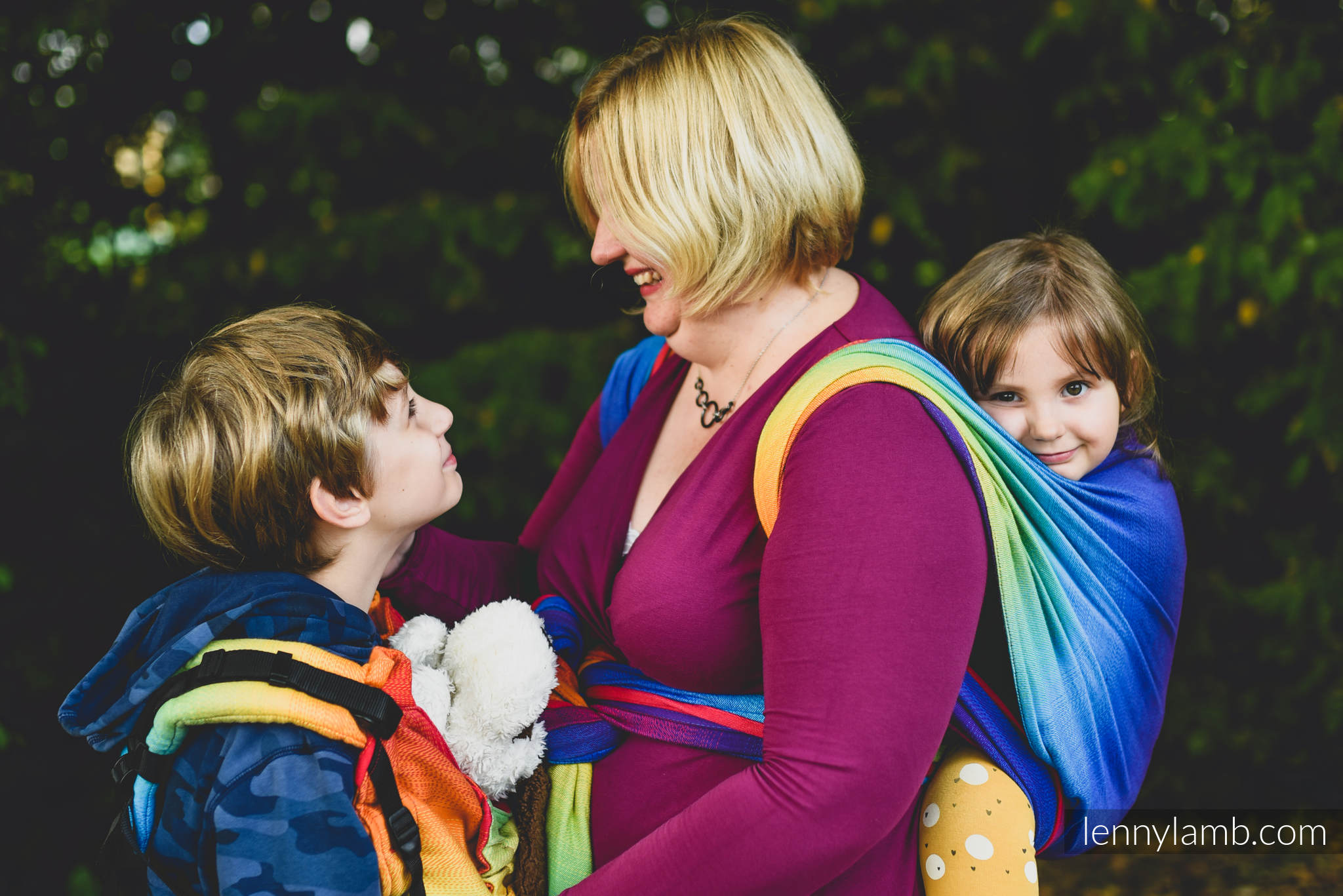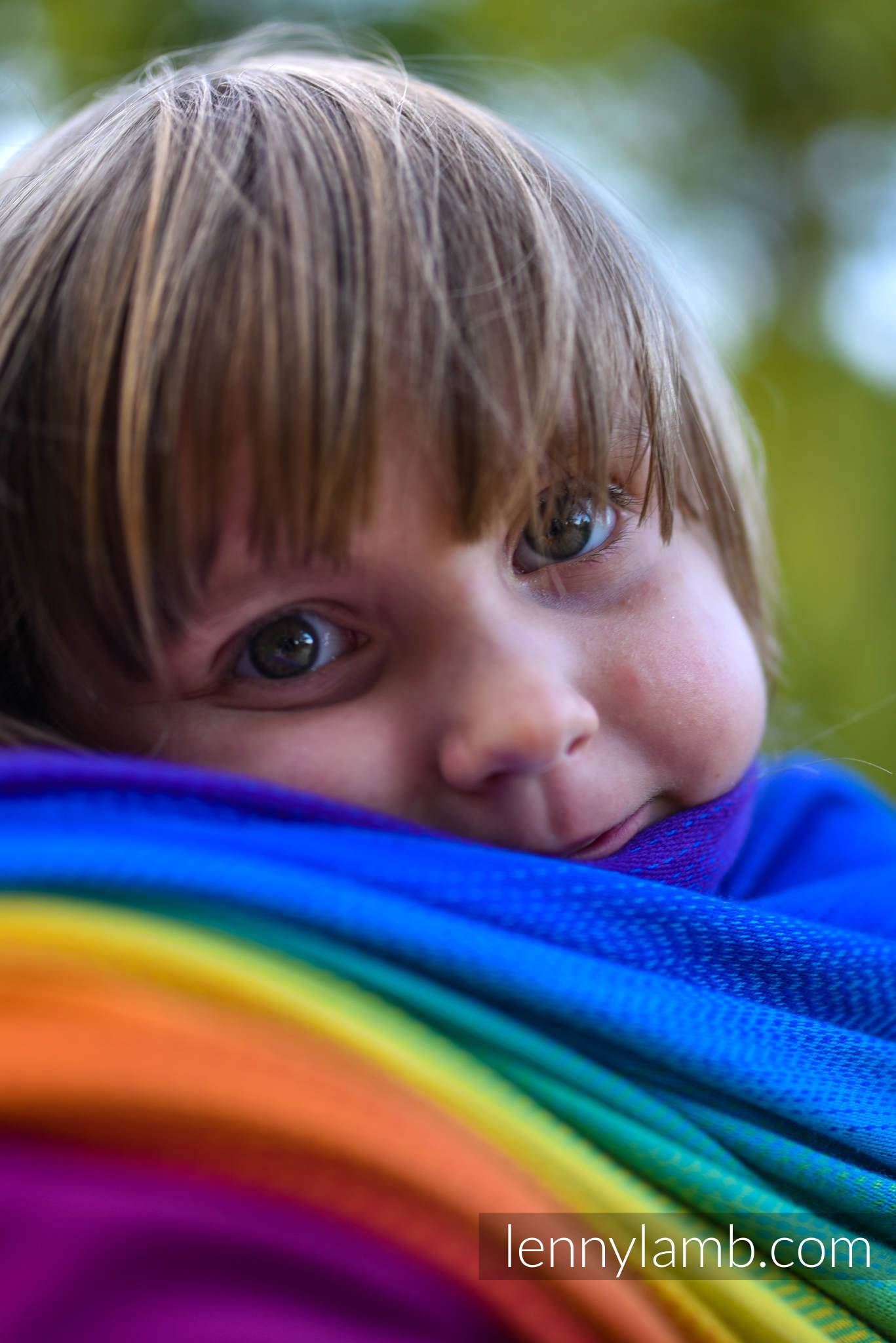 Magdalena Stwora
There is no greater pain than losing a child. And it doesn't matter if the child was a few millimeters or a dozen years old. We lost our child, Józia, when she was only 2 millimeters long. She was with us only for a month, on the 10th of April 2019 we were happy that our family would grow 2+1 and a month later, on the 11th of April we heard the worst words "I'm sorry, but the pregnancy is not developing". After crying many tears me and my husband made a decision - we want to try again. Half a year after the loss, the sun came up again for us, the difficult expectation began, full of fear for the little one, millions of thoughts and sometimes contradictory feelings. It was not an easy pregnancy. The season for diseases, some bad news and at the end the middle of the spring pandemic and a lonely birth. But on 4 May 2020, after the storm, a rainbow appeared. Our ever smiling, rainbow son was born. Jeremi, our awaited younger brother.
Someone can say that it was only 8 weeks, that I was only one month pregnant. But during that month we had a baby, ideas about it, plans. We loved it with all our hearts and I know it will stay there forever. The longing for this unknown baby will never pass, but I know that if it hadn't been for all those black days, Jeremy would not be with us today. Maybe Józia came to us only to enlarge our hearts and prepare them for a rainbow toddler? I don't know, but I'm sure we have our saint in heaven.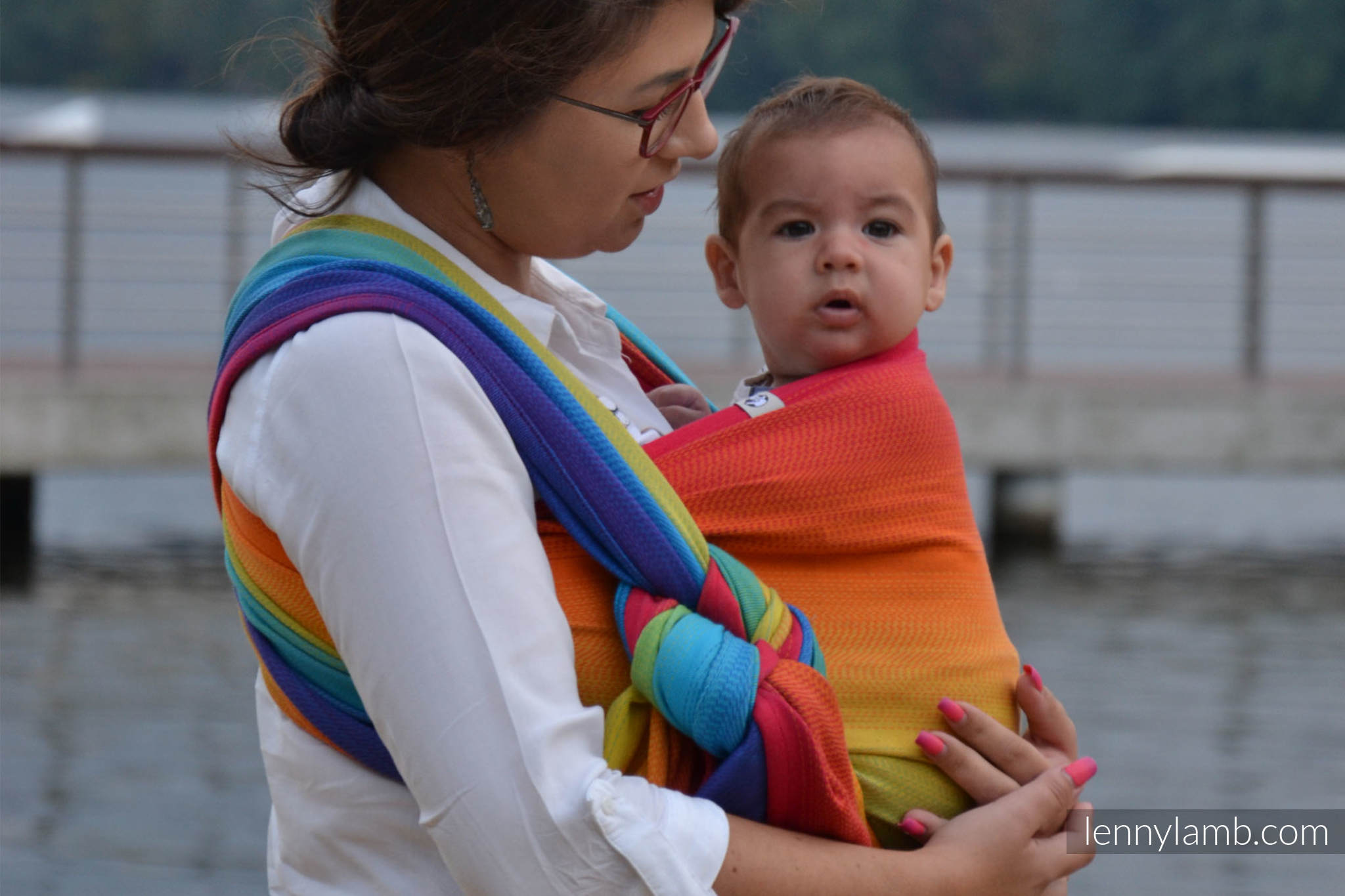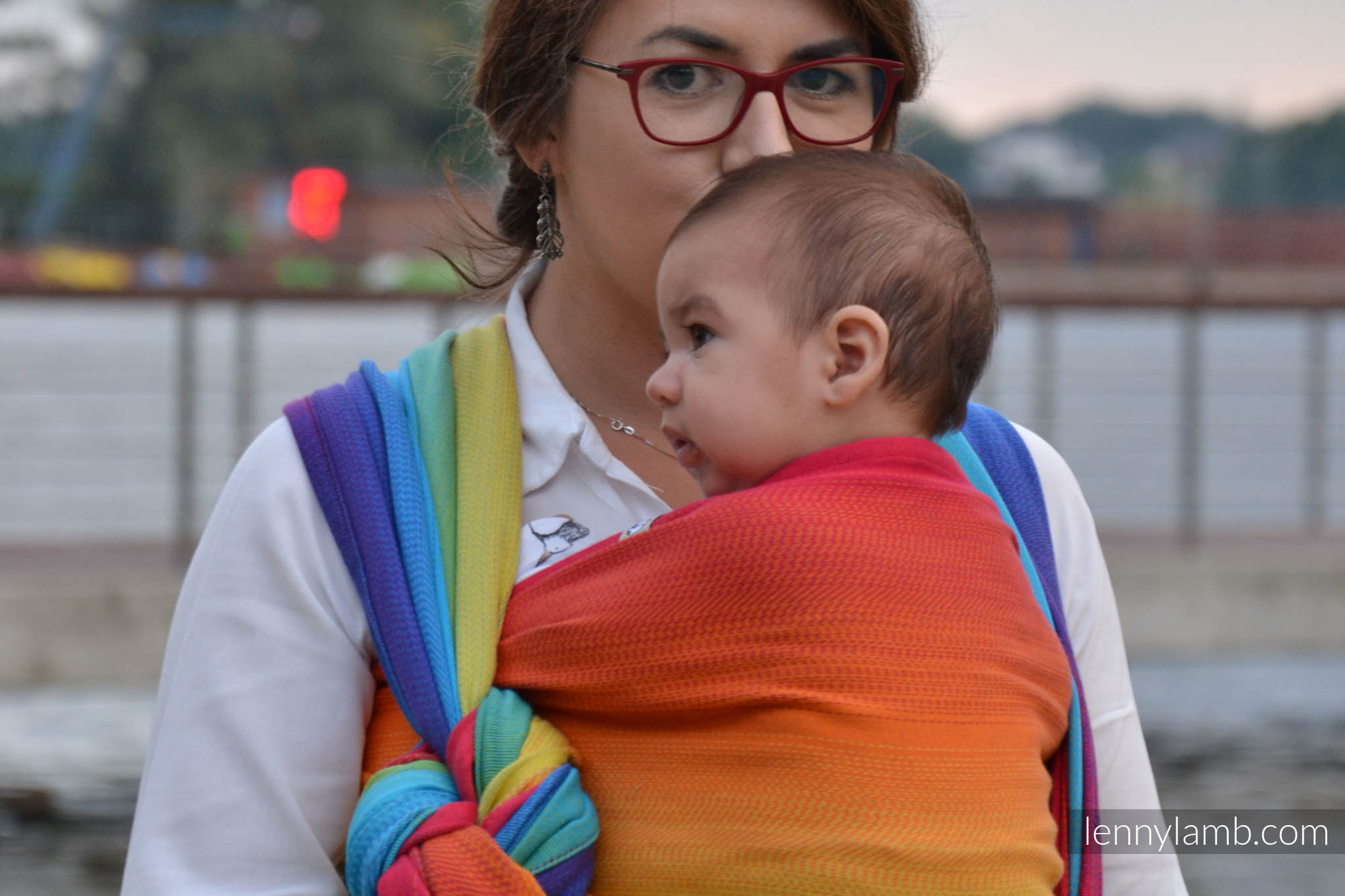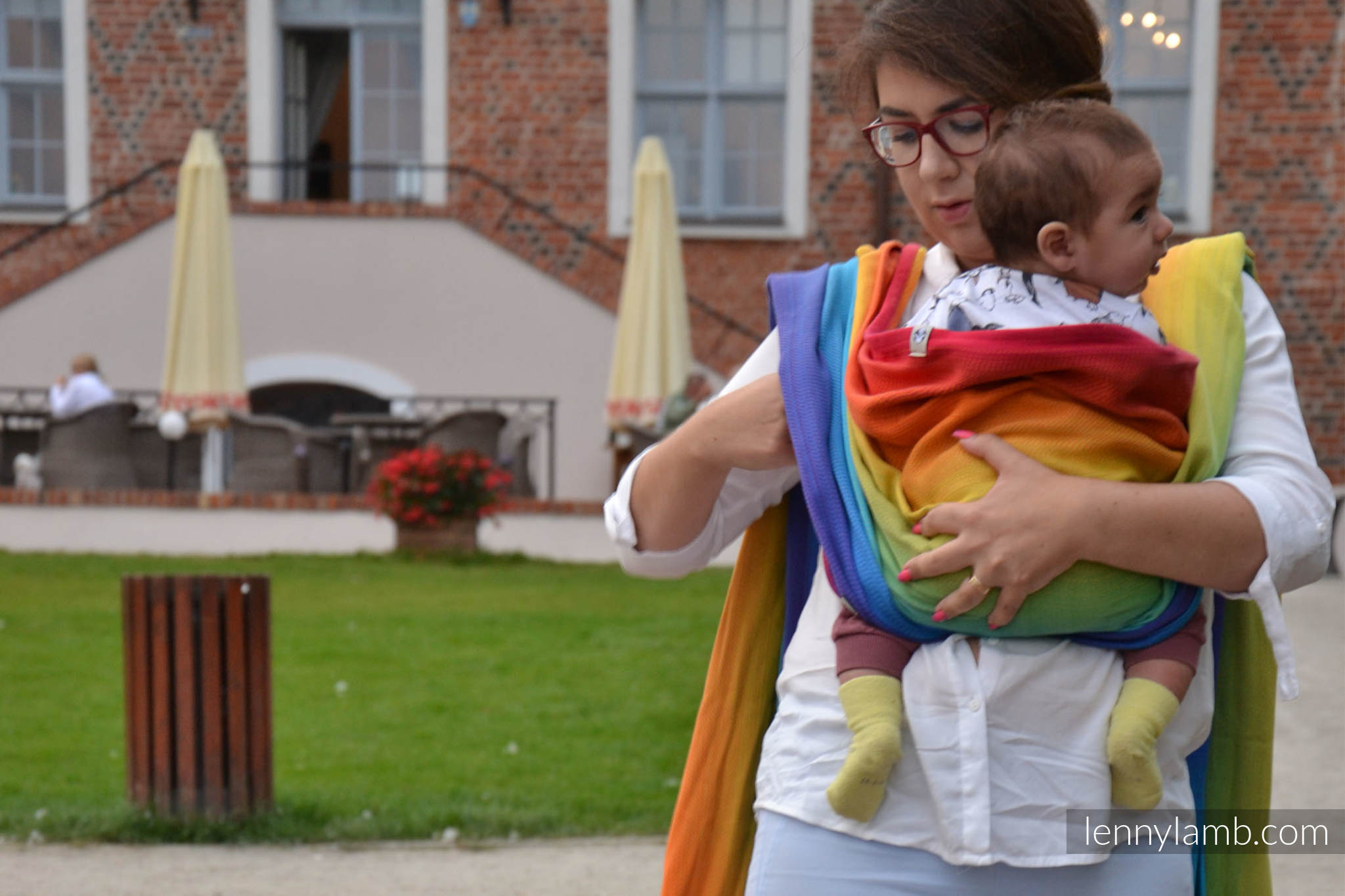 Marta Zakrzewska
Silence is never a good sign (now that I am a mom - I know that silence always means trouble) and if it is a doctor who is silent - this denotes a nightmare. These were the worst seconds on my life. After the period of silence I heard " I am so sorry, the heart is not beating". It was Friday. What was happening after that....to be honest - I don't remember much. I fell into some deep abyss, emptiness...the time passed by and I was waiting for the doctor's appointment (on Monday) to confirm the diagnosis in hospital. "You're still very young, you will have more babies" - I heard these brittle words from a doctor in hospital. Then cam another abyss. Tuesday. 19th December 2006. I can't remember anything. Anaesthesia. Awful emptiness afterwards. It was the worst Christmas in my entire life. Me - the girl who has always really loved Christmas - I hated it that year. For many years - as it turned out later.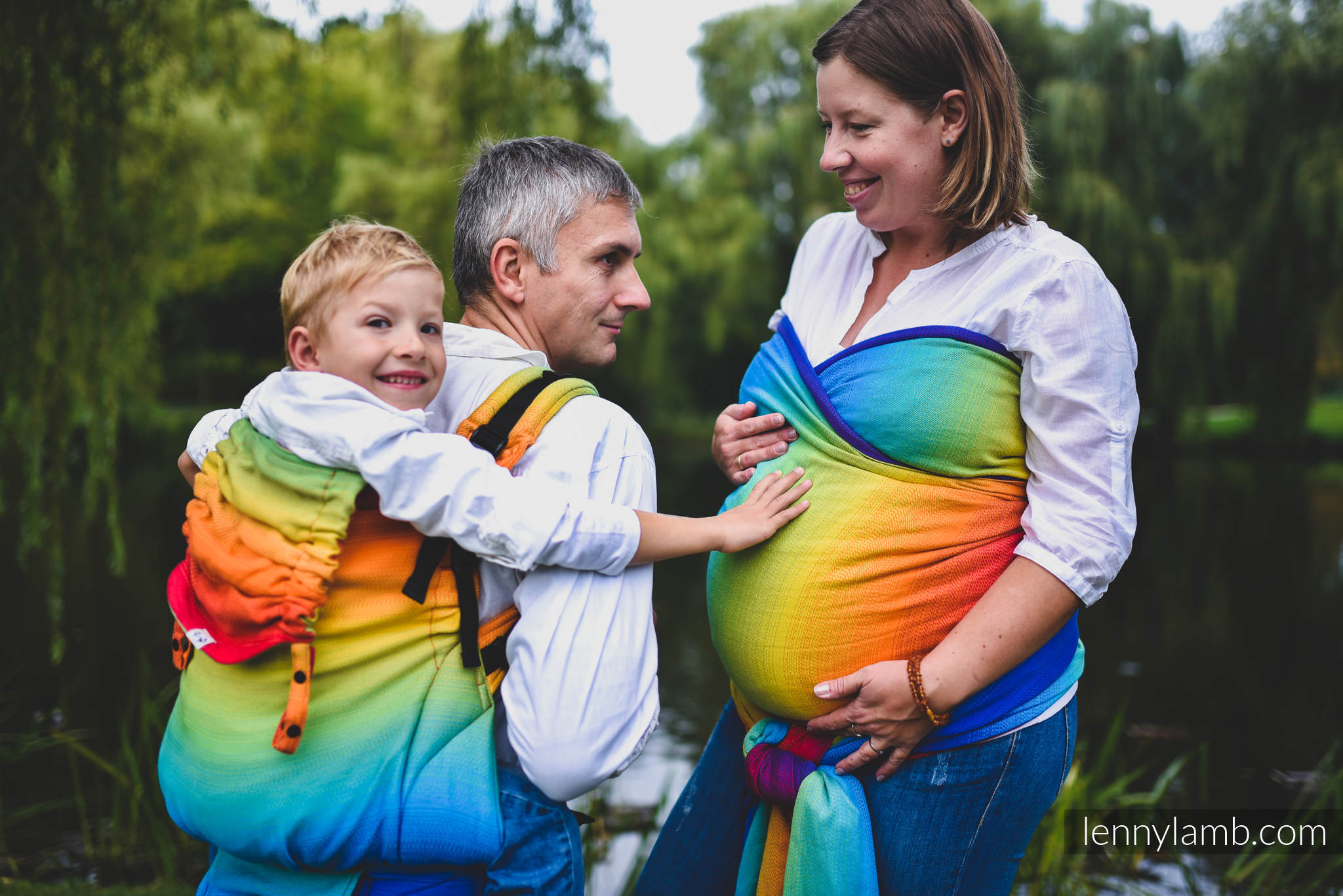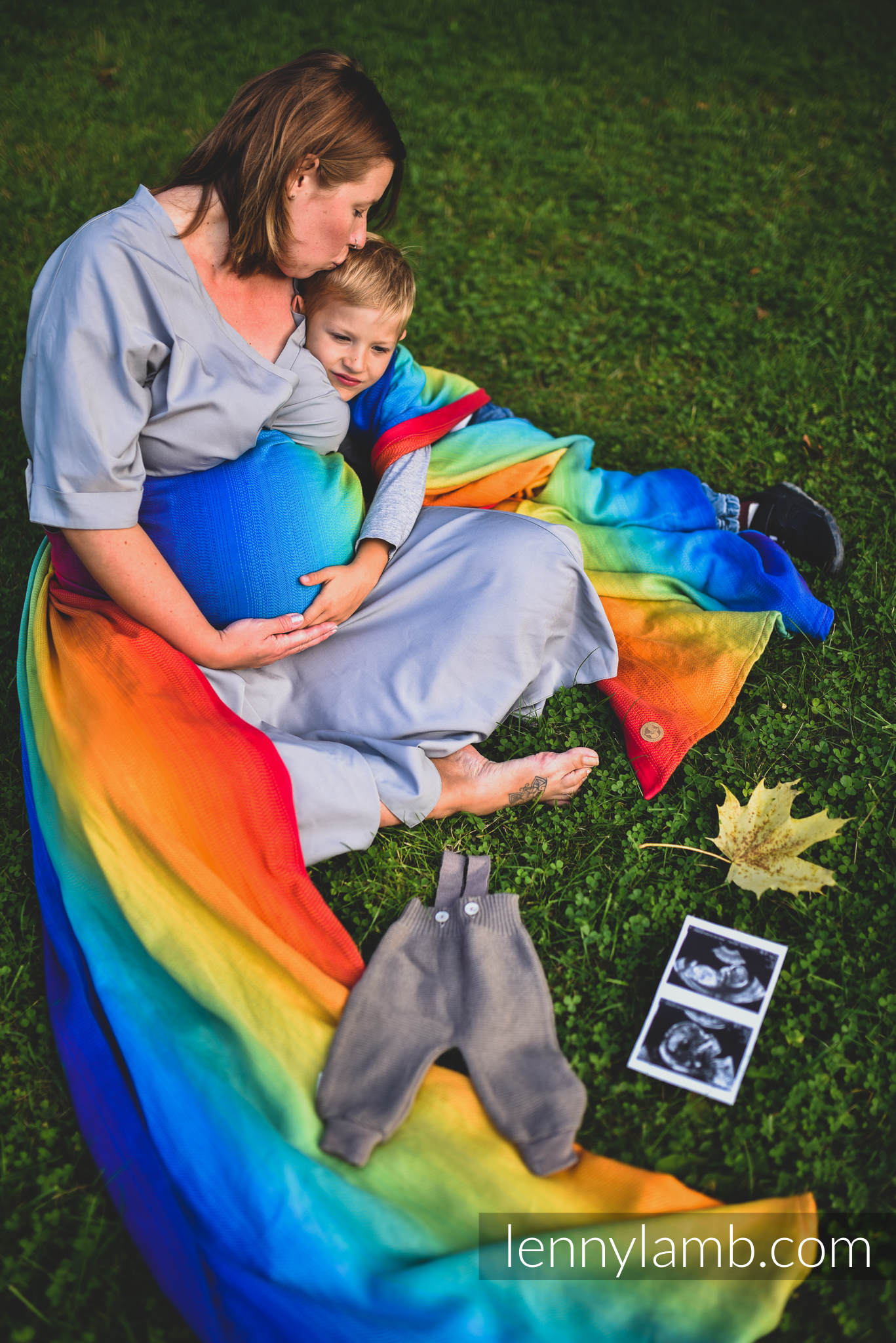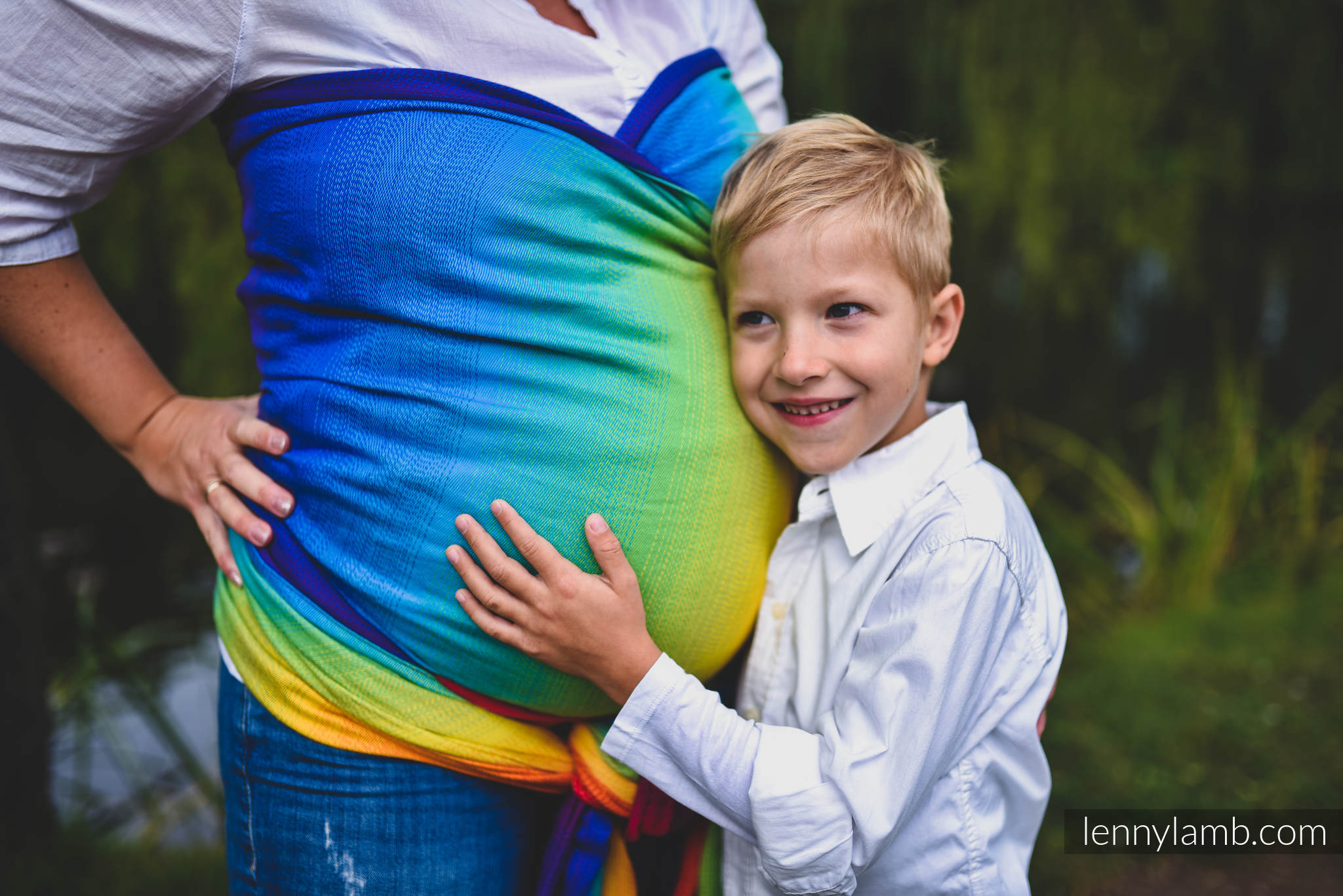 Joanna Szulc

Józef - my double rainbow baby - one I've been praying and waiting for. I no longer knew if I would ever have one, and he came to our world quite unexpectedly, it was actually not the best moment in our lives. However, he had already been in our hearts for a long time. His smile - frequent, expressing unlimited happiness every time he sees us or his siblings - this is real happiness. He's our ray of sun after the darkness of loss of two tiny children. So real, so cheerful, calm, wonderful. Thanks to him I am thankful and grateful all the time and I pass on the hope he brings.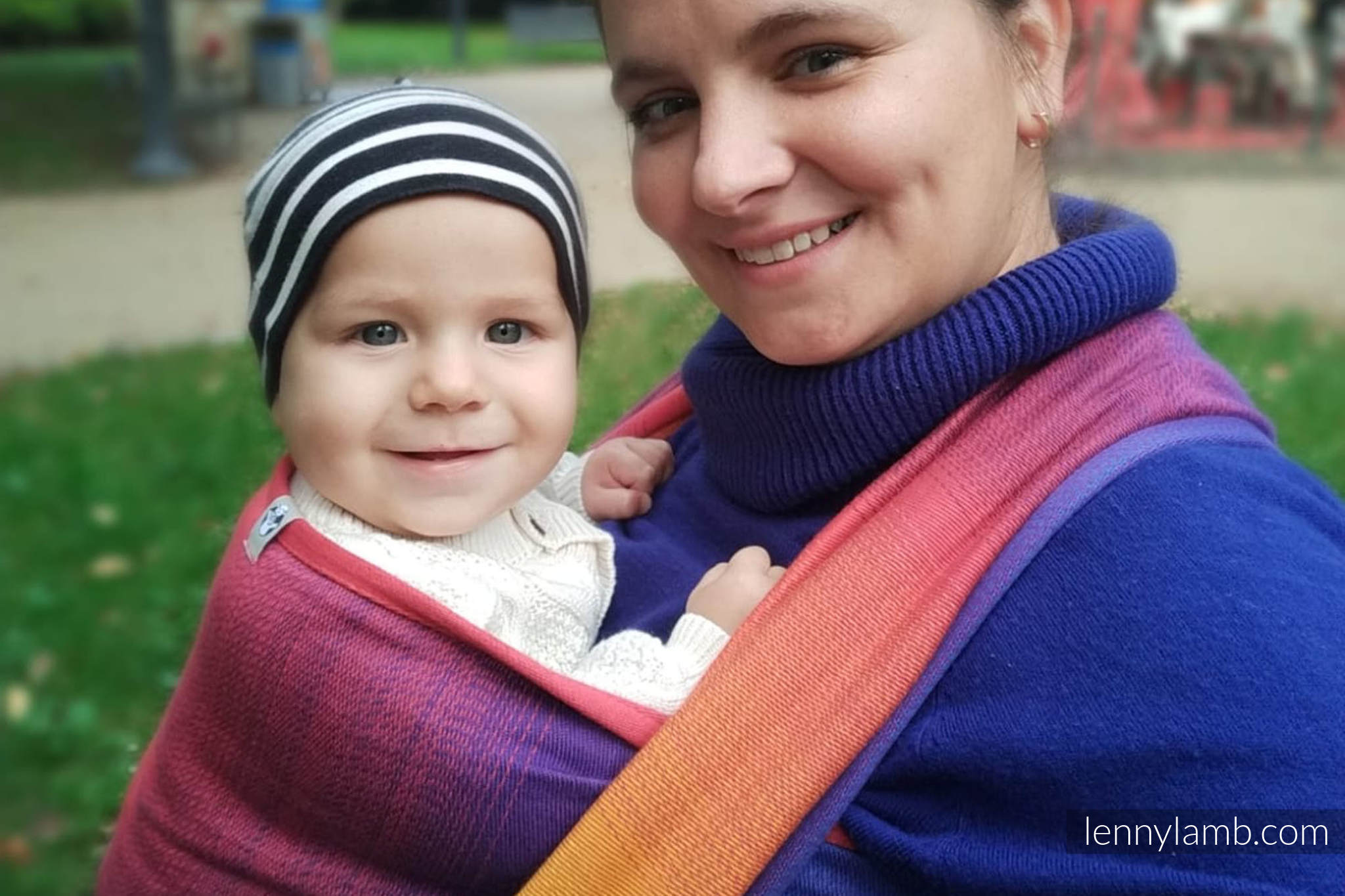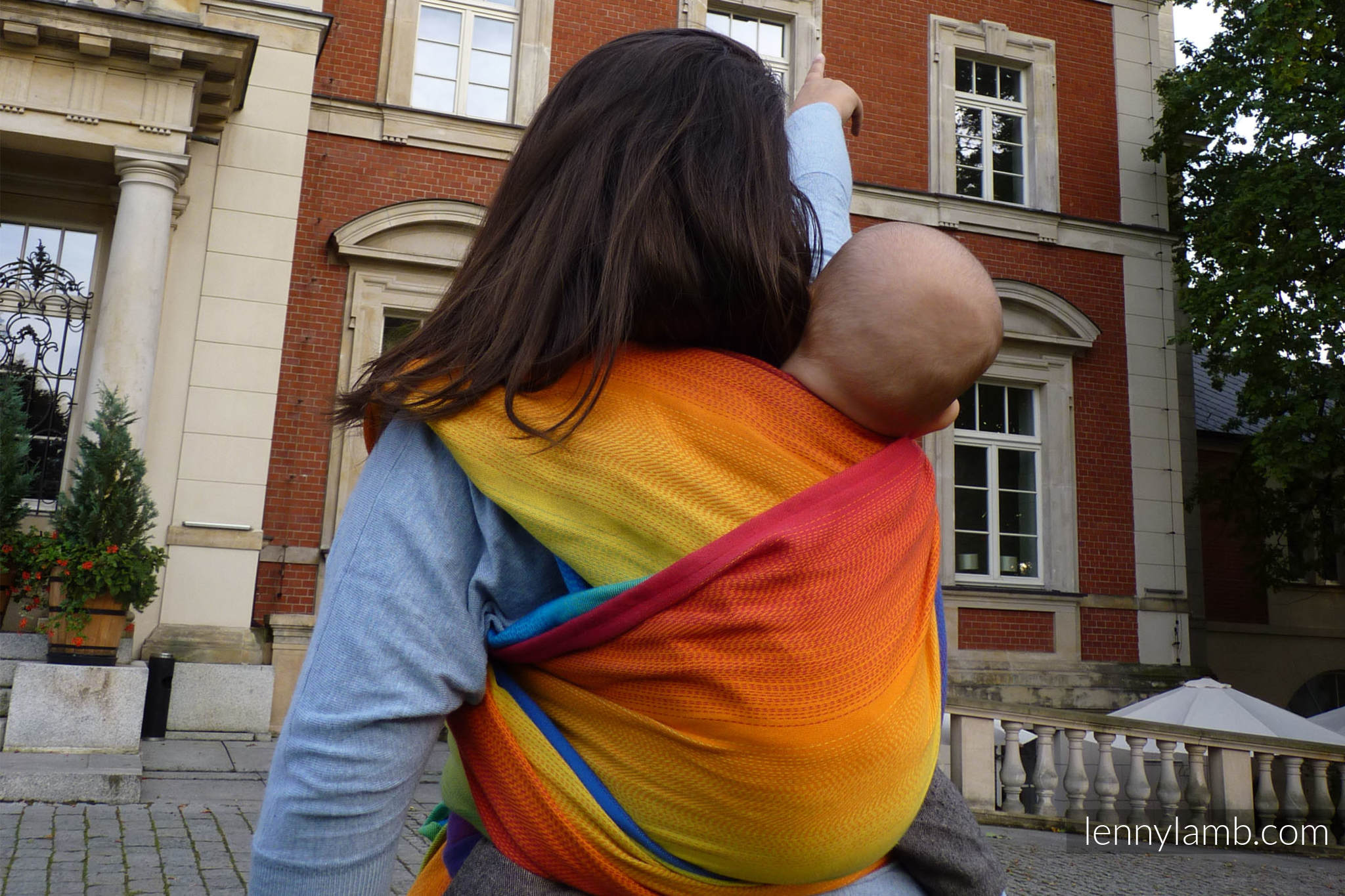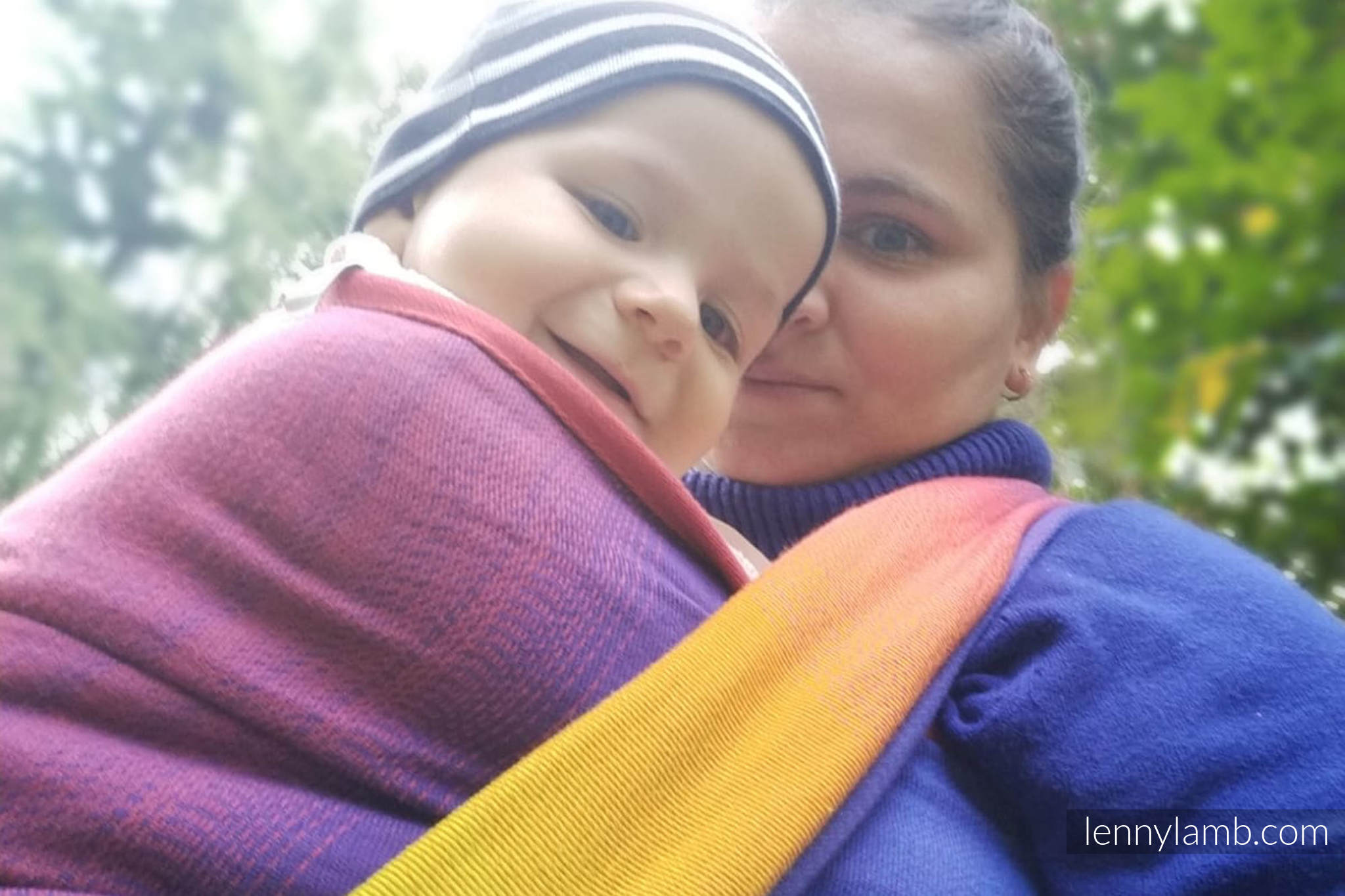 ---