A few words about LennyUpGrade - the users' reviews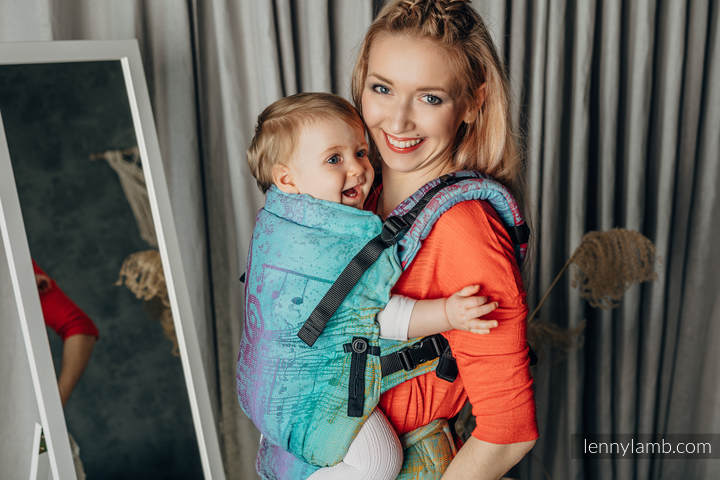 Let's start with some technical details about the adjustable LennyUpGrade baby carrier
From infancy to toddlerhood

Age: 1-30 mos.
Clothing size: 62-98
Safe babywearing of little babies 1 month+ (min. 3.5 kg)
Babywearing positions
Front "tummy to tummy", back (4 mnths +)
Grows with your baby
Adjustable panel for perfect fit and a healthy ergonomic position at all stages of baby's development
Easy fit
Soft shoulder straps and a hip belt, as well as their multi-level adjustment ensure comfort while carrying the child and a quick and easy adjustment for the parent
Hood
Comes with coordinating removable hood that can easily be attached to support head while sleeping, wind and sun protection
Pocket
Placed on the waist belt. Practical and handy; with a super easy magnet fastener. Will easily contain a phone, keys and other necessary accessories
Safety
The certificate of compliance with safety norms PD CEN/TR 16512:2015 and ASTM F2236 - 16a
Acknowledged as a "hip healthy" product by the International Hip Dysplasia Institute.
And now it's time for the fun part - your reviews!
...not by chance but by choice...
"When my preemie son was born i was really adamant about breastfeeding but because of objective medical reasons it could not happen, then i decided that i want to experience that closeness and bonding in the next best way possible, wich for me is babywearing. The UpGrade is our most used carrier not by chance but by choice, it is the most comfortable and versatile carrier and the fact that it grows with the child is a bonus! Ofcourse the fact that we are obsessed with dinosaurs can be seen by our choice of print too! We all love wearing it and enjoying the practicallity of it and the closeness that it provides."
...Often, when someone asked me what carrier I would recommend, I give the example of my favorite LennyUpGrade carousel of colors...
"Hello, babywearing followers!
I want to tell you about my first carrier I bought. This was a Lennylamb UpGrade carousel of colors. Then my baby was 6 months old and I couldn't wait to add a carrier to my woven wrap stash.
I chose LennyUpGrade after several tests of carriers for rent from libraries for ergonomic carriers in Bulgaria. In our happy days before the covid-19 in our city (I live in Sofia, Bulgaria) were often organized babywearing and breastfeeding meetings, which I attended with great enthusiasm. There we exchanged experiences with other mothers and shared the beautiful emotions of parenthood. I tried many different wraps, hybrids and carriers. I do it now too, when test programs are announced.
At the moment my son is 1 year and 9 months old. I continue to carry him because we love this closeness between us.
Why did I choose to buy LennyUpGrade? Because I'm in love with the model!
‌I like the soft belt that wraps around my waist perfectly. It is just as wide and long as it should be (for my bones) It fits me well without making me uncomfortable.
‌I like the blend. My model is made of woven wrap fabric from 100% cotton, broken twill weave, 220 g / m2. Extremely soft, fits perfectly on the baby's body, wraps it well and gives me a feeling of security and a warm hug.
‌The length of the panel can be adjusted between 16 and 45 cm depending on the age and stride of the baby. Its length is 40 cm. At its upper end, the panel is also adjustable horizontally and vertically by straps with buttons according to the required width to support the child's back and neck. We are currently using the carrier with a fully expanded circuit panel.
‌The shoulder straps are padded and 8 cm wide. It is the ability to be adjusted in length in several ways that allows the carrier to be used with both a baby and a toddler. I have never worn a carrier with cross shoulder straps.
‌The carrier is also equipped with a hood, which can be removed if necessary.
‌In the front part of the belt there is a sewn pocket for widgets (keys, small coins, etc.)
Since I like the color of the model a lot, because of the joyful play with the colors, I couldn't resist and I buy a sack pack in the same pattern as well. Later I added a romper (overall) for my baby, which was sewn to order by Lennylamb in my desired pattern - we combined a carousel of colors woven wrap fabric with black fleece.
Often, when someone asked me what carrier I would recommend, I give the example of my favorite LennyUpGrade carousel of colors , emphasizing the main advantages - soft belt, pleasant to the touch woven wrap fabric, fully adjustable, does not lose its colors when washed, easy to use and strong buckles, and last but not least - certified, which means safe to use..."
It's definitely the most comfortable carrier we've tried...
"My Lenny Upgrade is the best purchase for my baby I have ever made. It helped us a lot through the terrible period with colics in the beginning and growing teeth now . Its beautiful colours never leave unnoticed. The material is soft and breathable, helping to protect us from overheating. It's very easy to adjust and it grows together with the baby.
It's definitely the most comfortable carrier we've tried. I like that it can be worn both sides front and back and my baby is really happy with it. The pocket on the belt is really useful. There is a detachable hood with strings which makes it easy to pull it when baby is on the back. It feels safe and gives me the perfect closeness with my child while walking outside with my hands free or doing something around the house while baby sleeps inside. She is already 18 months and still loves her Lenny since day 1. It was love from first sight for both of us. I recommended the brand to all my friends. Together with Lenny Upgrade we are a happy baby and a happy mummy."
...it is the one and only both for me and my husband…
"With my one year old we have tried 4 other types of buckle carriers, I thought that it is OK that I feel my daughter heavy and that I have pain in my lower back after carrying. Then I fall in love with 'lovka mustard' design... I had already spent a fortune on babywearing, but Lenny had a great sale so I gifted myself with a LennyUpGrade saying 'just a last one'. Since then it is the one and only both for me and my husband. It is so soft but helds my girl stable. We can adjust the shoulder strap at 3 points!! This ensures that it finally fits me as a slimmer mum perfectly too, and I can wear my girl upper causing no more pain to my lower back by puting more weight on my shoulders instead of that area that really needs some rest after giving birth. I like that we can use it for the whole baby wearing period since it grows with my daughter and I have to admit that it is the first carrier, which I can put on my back alone without worrying (even handle the hood with the Reach Straps!) and of course I am in love with the design ever since... A fan from Hungary."
...solved my issue of needing multiple carriers...

"Lenny Upgrade is the best of all the carriers I have tried! I love how versatile it is as it expands as baby grows. In addition, the fabrics are super soft and snuggly for babies and toddlers... not to mention with beautiful colours and prints! It finally solved my issue of needing multiple carriers since it does everything all as one. Bonus- has a great sized pocket for your phone, keys, etc."

... it was love at first try...
"After trying several other carriers which didn't feel right, the babywearing consultant recommended the LennyUpGrade and it was love at first try. Our 4 month old fell asleep in matters of minutes, I can barely feel his weight and it's so soft, just like mommy's embrace. The colors are beautiful and vibrant, like a real rainbow. It's a pleasure to go for our daily walk."
... the easiest, fastest, most accurate way...
"The carrier which is the easiest, fastest, most accurate way to adjust for kids and parents too. The materials are high quality and beautifully patterned. I'm not telling you a big secret when I say I'm a Lenny fan We've had a lot of Upgrades, we keep changing them because you can't get enough of them."
...has it all...

"This carrier just has it all. It's suitable for small babies bit thanks to the system it grows with your baby. It's easy to adjust, comfortable and the most important, it's stylish too. Just look at those designs!! I'm in love with this carrier, and so are my kids."

...perfect for babywearing beginners and even experts...
"Our search for SSC ended when our LennyLamb Upgrade came. 😊❤ It is made of woven fabric so breathable for both baby baby and wearer. I also love the adjustable settings in the body and bum panel that grows with our baby. We used it from infancy to toddlerhood stage and now ready for our coming newborn. 😊 Aside from that, one can easily breastfeed with the carrier because of the adjustable shoulder strap settings. And oh did I mention that there is no need to break it in? The carrier itself is easy to adjust and perfect for babywearing beginners and even experts. ❤"
...such an easy carrier to wear....
"To be honest: at first I was going for the Jurassic New Era print. I fell in love with that. But what carrier do I choose? Well, I chose the upgrade. Why? Because it would last the longest because it will fit so long. Without fitting it anywhere or consulting information, I just ordered. And oh my, how this carrier has changed my baby wearing life. I've had other good carriers before. What could be the difference? Well, a lot! First. ITS SO SOFT. The fabric is strong but so flexible. This also comes in handy when your not using it. It easily fits in a small bag. The shoulder pads are also very comfortable and soft. They are thick (but slick, lol) and cushy, which is very pleasant when you're wearing. My husband uses it almost more than me, because it's such an easy carrier to wear. Also very important: my kid loves it! He's always so happy in this carrier. And not very important but cool: a lot of times people come up to me saying "wow that's such a cool carrier, where do you got that from!? I would 100% recommend this carrier."
---